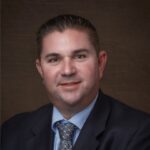 Ben Bauer, the 2016 PGA South Florida Section Southeast Chapter Professional Development Award winner and 2018 Chapter Bill Strausbaugh Award winner, is the PGA Director of Golf at The Club at Ibis, in West Palm Beach, Florida.
Ben Bauer on the importance of incorporating technology into your practice range:
The merits of adding Toptracer technology to one's public range or course have been lauded throughout the industry, with one success story after another. The Club at Ibis recently became the first private facility in Florida to implement Toptracer Mobile technology. Scheduled for last summer, and unfortunately delayed due to the pandemic, it was installed on the south end of our dual-sided range in February of this year. Encompassing all 40 hitting stations of that south side (the north side is primarily used for warming up before playing), our members are utilizing their iPads and iPhones to track their ball flight and attain a plethora of statistics that are provided. This technology takes the guesswork out of the golfer's practice sessions by providing pertinent information on every shot, and helps the player determine his or her distances with each club for the utmost in "purposeful practice". We did extensive research before committing to bring this technology to our facility; but in the short time since installation, we have seen our low handicappers dial in their numbers, mid-range players frequent the range more often and families enjoy time together playing games on our range. We even have plans to implement competitions like Drive, Chip & Putt, and can facilitate long drive and closest to the pin contests during special events. Looking at our reports from February – there were 180,000 range balls tracked on our range.

Ben Bauer on the business impact of incorporating technology into your practice range:
The technology truly appeals to everyone, no matter their handicap, skill level or age. In fact, we have an 83-year-old member who has played fewer rounds with each passing year and no golf for the past two years. He told me that he downloaded the Toptracer Mobile app and is enjoying the new amenity. We've also had some members come out of the woodwork and pick up a club for the first time in a while. Another significant business impact of adding this technology can be its effect on your membership. It's a great new amenity to promote to potential new members and social members considering an upgrade. It has made practice fun, and though we have 54 holes of championship golf to offer, this amenity makes the practice range a viable alternative to time on the course.

If you would like to email the author of this Best Practice directly, please email bbauer@clubatibis.com.