Dedication to customer service along with a range upgrade help boost business at San Antonio Facility
BY: TONY L. STARKS
Joe Caruso came back into the folds as owner of his name sake golf academy and practice range at the end of 2015. Six years ago, he sold it to two business men with little experience in the golf industry on a 15-year lease. Less than halfway through the agreed timetable, they came back to Caruso and asked him to take it back.
When he walked in he couldn't believe his eyes. The golf shop was a mess. The range balls were so worn down that they almost resembled miniature cue balls. The mats in the hitting bays were beaten flat.
As if these obstacles weren't enough as he tried to revitalize the facility, Mother Nature hadn't exactly cooperated either. Average temperatures have been up by more than five degrees in 2016 in San Antonio and they're more than 15 inches above their annual rainfall average. In August, heavy rainfall even led to severe flooding in the San Antonio area prompting several water rescues.
Despite all the hurdles, sales at the Joe Caruso Golf Academy have more than doubled YTD compared to the previous ownership. Caruso believes that there are multiple reasons for that success, but the two most critical are refocusing on the customer and the installation of 17 Power Tee units on the upper end of the practice range.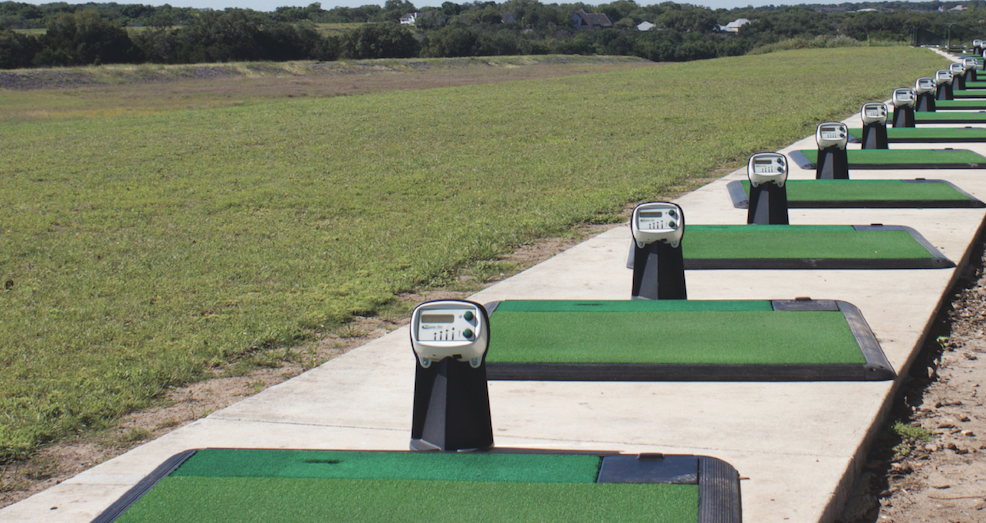 "We really cleaned up the place when we came back in, that was the first order of business," says Caruso. "A big part of that was adding the 17 Power Tee stations, they just give the range a very clean and organized look."
The automated teeing stations took about two weeks to install, which included a rain delay. The impact was almost immediate among multiple customer demographics.
Caruso says that the majority of golfers who come to him to hit balls are 45 or older, and most of those that come in the daytime during the week are retired. "Seniors really love the Power Tees because they don't have to bend over to tee up the ball," he says. "On top of that, a lot of those guys prefer 3-wood to driver, and the adjustable tee settings lets them set the tee to the right height very easily."
The increase in activity among senior golfers allowed Caruso to turn Wednesdays into "Senior Day," when seasoned golfers hit balls for half price. It's become so popular that the revenue numbers on Wednesdays equal or surpass business on regular days.
Caruso also tries to cater to a group he calls "Cowboy Golfers."
"On the weekends, they come out in jeans and a T-shirt and just go beat balls. Sometimes the driver head ends up out on the range somewhere," he describes. "We get a lot of those guys and they like the Power Tees – they treat it like an arcade game."
Caruso began keeping more old rental equipment around for this segment of golfers. So if a driver head ends up going farther than the ball, it's not a big deal.
The weekend also brings a lot of young fathers and their children. In many cases, the juniors are more excited by the Power Tees than they are by the prospect of swinging the club. However, that's not always the case as over the summer Caruso was able to attract 190 junior golfers to his one-week junior camps – averaging close to 20 kids a week.
Caruso was particularly proud of this turn out considering Topgolf was recently built nearby and was operating junior camps at the same time.
"Topgolf did about 360 juniors, I thought we did really well in comparison. Obviously we don't have the marketing power they do," he says. "The Power Tees helped us here again, I think. The kids really enjoyed them because of the adjustable tee heights. Obviously, when they're hitting a U.S. Kids driver the tee can't be that high."
Marketing is something else that the automated teeing systems have helped with. Caruso hired a photographer to take shots of the renovated teeing areas, which have given a professional look to his website. Furthermore, on Sports Radio Ticket 760 on iHeart Radio, once a month Caruso hosts "The Golf Show" where he's able to gain exposure and put his knowledge on display, while also touting his facility to potential customers.
Caruso calls Power Tee an "exceptional company to work with." Adding: "They'll do anything they can to help your business. They care and they're willing to give. They are willing to help even the small practice ranges that are privately owned. You can tell they're invested."
One example of just how invested they are is that they'll actually hire staff members of facilities that use their product to run routine maintenance checks. "Once a month a dedicated member of my staff cleans under the mats, oils the motors and vacuums debris from around them. It takes several hours to do all 17 stations, but Power Tee pays him to do that.
"They've been a big part of why we've been able to revive this place."