It's not a stretch to see why this month's top-ranked training aid has become so popular with teaching professionals, tour professionals and golfers of all skill levels
Just because the Golf Stretching Pole is a relatively simple device in the realm of teaching and training aids, doesn't make it any less valuable to teaching professionals or tour professionals. Just ask Randy Myers, the golf fitness instructor whose name is attached to the product, or his top-ranked clients like Davis Love III or Zach Johnson, who use the Golf Stretching Pole regularly both on and off the golf course.
That's right, on the golf course, too. The Golf Stretching Pole is one of those few teaching and training aids that can actually be used during a round of golf, according to the USGA, which is one of the reasons why it has become so popular among teaching and touring professionals, along with average golfers. The Golf Stretching Pole has many different uses, drills and exercises, some of which we learn from stretching pole enthusiasts such as MyGolfingGoals Academy founder Bill McInerney and two-time national PGA of America award winner Will Reilly on the following pages.
From Bill McInerney…
For years, golf and fitness went together like a square peg into a round hole. Even after Gary Player pioneered physical conditioning on the Tour level, it was still widely ignored until the last two decades or so. Today, golfers get it. They understand flexibility's value in particular—how it helps the golf swing—and are learning in droves how to stretch before they hit balls and play the course. This thinking helped to develop the Randy Meyers Golf Stretching Pole, which tied for 20th position on the inaugural GRAA Top 25 Teaching & Training Aids Survey.
Billing itself as the "only golf-specific stretching device on the market," the Golf Stretching Pole allows a player to loosen up before a round or a workout session in just a few minutes. Bill McInerney Jr. says the tool intrigued him right away. "I first saw it at the PGA Show in Orlando. I was looking for a new fitness system for my academy and thought we needed something that would get players to stretch," says McInerney. "In particular, we needed a tool that made them want to stretch." McInerney believes the serious player is now glad to invest more time into fitness. Therefore, it is important to offer programs that are specific to golfers. "Fitness is a major part of our program," says McInerney. "Three times a week we conduct a 'Power Hour' that involves fitness. We work on flexibility, stability and mobility. We're focusing on developing better athletes—it certainly makes teaching golf easier."
Literature for the Golf Stretching Pole boasts that using it for just a few minutes will increase clubhead speed because of the increased ability to turn. It thus makes sense that McInerney has his students use it briefly before each Power Hour. Some McGolf students do seem hesitant when instructed to use the training aid. "While students embrace whatever helps their games, the Golf Stretching Pole is not as exciting as something that corrects a swing with immediate feedback," says McInerney. "If a student uses it one day, they won't suddenly feel more flexible. It has to be a continued exercise. It's a tougher sell since it doesn't provide that instant feedback." The training aid promotes five easy stretches for players to try, holding each for 30 seconds. McInerney mostly employs the device for its recommended uses, citing its benefits for working out the lats, but also has used it as a visual aid for a student's target line. "I pretty much stick to the stretching pole program," says McInerney. "I show my students the stretches in the product pamphlet and have them mimic those."
The training aid comes in both men's and women's, standard and tour models. The standard model is simply the pole while the tour model offers a flex handle, which helps to set the proper wrist angle at the top of a swing and reduce hand pressure during stretches. The men's and women's models are identical except for the diameter of the pole and the color. McInerney believes that the Golf Stretching Pole can be used by anyone. "I haven't found it works best for a certain group of people," he says. "I have some people, when they come in, it's the first thing to grab. Other students don't need it since they are naturally more mobile. Ultimately, the people that are really focused on flexibility are the ones that are going to use it more."
Perhaps most importantly, the Golf Stretching Pole complies with USGA Rule 14-3 and can be stored in a player's bag during a competitive round. This allows a student to stretch before each shot if they choose to, which makes the training aid a valuable resource to use while playing. As fitness becomes more a part of golf, expect to see the Randy Myers Golf Stretching Pole in more bags. McInerney is doing his part to help fitness to the forefront of the sport.
"We offer the Golf Stretching Pole to all of our students," McInerney states. "We have a personal trainer who runs classes for our students focused on explosive movements. We do pushups, burpees, walking lunges—it's basically a Crossfit hybrid. When our juniors go through growth spurts, that's when they can develop power." McInerney and his staff use those growth spurts as a window to carve out more power for their students. But before his students can pushup, burpee and lunge their way to more power…they reach for the Randy Meyers Golf Stretching Pole.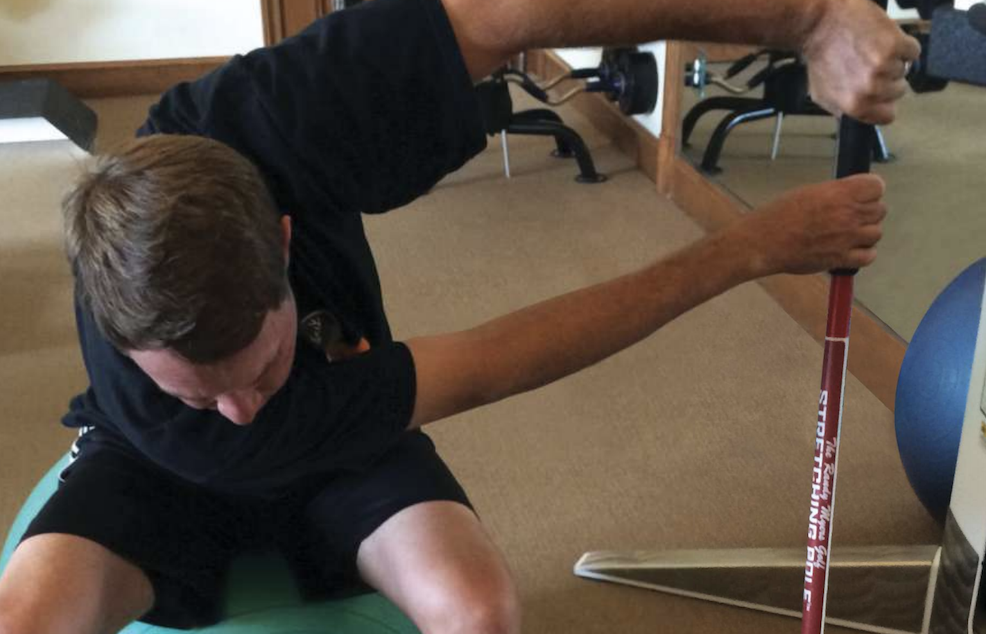 From Will Reilly…
Will Reilly is a widely known golf professional for a host of important reasons. He was awarded the PGA of America's Player Development Award (then named the President's Plaque) in 2007 and its Youth Player Development Award (formally called the Junior Golf Leader award) in Reilly explains that stress in the core muscles alone will stop the turn. When this happens, the left arm breaks down and as the club is lifted out of plane, a general disconnect begins. Hugh Reilly is a true fan of Jack Nicklaus's golf swing, specifically based on Jack's ability to make a full turn and keep the golf club on plane. "Big guys have to let the left heel come off the ground to complete the turn and take 2005. Reilly has also been honored with numerous awards by the Philadelphia PGA Section, including two Youth Player Development Awards, two Player Development Awards and the 2007 distinction as Section Golf Professional of the Year.
And Reilly is part of an entrepreneurial family, as well. Will's father, Hugh Reilly, invented the Randy Myers Golf Stretching Pole. As Will remembers it, his father, the owner of Upper Dublin Golf Club in Dresher, Pennsylvania, came up with the idea for the Golf Stretching Pole out of necessity. "Making a full turn of the shoulders was difficult for my dad," Reilly says. "At 6'2″, 230 pounds and with a muscular frame, flexibility is something he had to earn. He focused on the last 25 percent of the backswing, which is the tough part, flex-wise."
Reilly explains that stress in the core muscles alone will stop the turn. When this happens, the left arm breaks down and as the club is lifted out of plane, a general disconnect begins. Hugh Reilly is a true fan of Jack Nicklaus's golf swing, specifically based on Jack's ability to make a full turn and keep the golf club on plane. "Big guys have to let the left heel come off the ground to complete the turn and take pressure off their lower backs," says Hugh Reilly. "That move alone will extend their golfing years."
As Will recalls, his father would try various techniques to maintain a straight left arm while still making a full shoulder turn and keeping only light tension in the arms and hands. Hugh eventually discovered that power needs to come from the ground, which ultimately led to the invention of the Golf Stretching Pole.
Hugh has seven children, and all three of his sons are PGA Professionals. They spent their winters at their home in Palm Beach Gardens, Florida, which was near PGA National Resort & Spa's Champion range. The family happened to meet Randy Myers, who was the facility's director of fitness at the time. Myers became enamored with the Golf Stretching Pole immediately after trying it. From there, Myers introduced the aid to many of this tour-pro students, including Davis Love III, Dustin Johnson, Zach Johnson and Lucas Glover, among others. As a result, the device's popularity spread quickly across the national tours. Currently, over 200 tour players own, use and carry the Golf Stretching Pole in their bags as part of their everyday equipment. Over time, the aid has evolved to better accommodate the golf swing's true positions. Will claims that in order to reduce hand pressure, the angle and position of the hands on the device had to resemble the position of the hands at the top of the backswing. That discovery led to the creation of the Tour Model, an important design improvement Hugh credits to his young cohort, Will.
"I had the great opportunity to play a round of golf with former Microsoft CEO Steve Ballmer," Will Reilly explains. "He saw me using the Golf Stretching Pole, showed interest in it and asked me a few questions. So I sent him one. He kept it in his corner office at Microsoft to use during the day. Ballmer swears by it. He says that because he is able to turn more easily, he is hitting the ball farther than ever."
Will claims that one of the reasons this hybrid training aid has become so popular is that it can be used in competition. "According to the USGA and R&A Rules of Golf, most teaching and training aids are not allowed to be used during the course of a round of golf," says Reilly. "The Randy Myers Golf Stretching Pole is unique in that it can be used during a round and stored in a golfer's bag. It conforms to Rule 14-3."
Rule 14-3 states that a player must not use any artificial device or unusual equipment, or use any equipment in an unusual manner, in a stipulated round. However, Decision 14-3/10.5 in the USGA's "Decisions on the Rules of Golf" states that items designed specifically for golf but not used in a golf swing and items designed for general stretching are legal to use during a stipulated round. "Although I don't play as much golf as I'd like, I do use the Golf Stretching Pole while playing in Section tournaments," Reilly says with a hint of pride.
More will surely follow, but the Randy Myers Golf Stretching Pole is regarded as one of the first fitness aids designed specifically for golf. Reilly says that a lot of golfers tend to stretch their muscles prior to a range session or a round of golf by using a golf car as a fulcrum or sitting on the ground and touching their toes. However, these are non-golf specific stretches and do not really let you gain residual muscle memory. The Golf Stretching Pole helps golfers with repetition.
For some the product is a window to a new sensation. According to Reilly, many students do not have the ability to make a full turn in their golf swings, likewise many others lack the power in their cores. By using the Randy Myers Golf Stretching Pole, golfers are able to allow their hands to become more sensory in the way they should act during the golf swing, because of the low pressure in their hands. The Golf Stretching Pole can also be used to help students with their balance. By holding the top of the backswing stretch, golfers can check the balance in their feet by shifting from heel to toe, letting their weight center more toward their heels.
It's been said that the best way to get the full benefit from the Golf Stretching Pole is to make a full-swing position stretch for five seconds on the backswing and five seconds on the follow-through before every tee shot—nothing comes closer to guaranteeing a full turn. Golfers are only at the top of their backswings for a fraction of a second in real time, and only for two to three seconds for an entire round, This is not enough time to send a message to the brain that such-and-such position is where you want to be at the top of your swing. But with this five-second drill, claims Reilly, the drill work is equivalent to playing two and a half rounds of golf.
"What chance does a golfer have to make a full, complete backswing with a straight left arm, full shoulder turn and correct balance if he hasn't played in a few weeks," asks Reilly, "No chance."
The Golf Stretching Pole allows students to rehearse that ideal position before each swing. The aid allows students to focus on turning their core, and their core will swing the club, otherwise known as a "big muscle swing" with core and legs. The Golf Stretching Pole permits students to get to these critical positions instantly via the five-second drill before each shot. It's Will Reilly's belief that viewers of tour events on TV will soon see competitors stretching in this manner before every full shot. Reportedly, each member of the 2012 U.S. Ryder Cup team received a special Ryder Cup Golf Stretching Pole from team Captain Davis Love III.
Reilly also asserts that the Randy Myers Golf Stretching Pole imposes a lot of constants when used correctly. The pole helps his students create power and also to learn how their body functions and moves. Photos of all the stretches are printed on the pole itself. Reilly approves of that, as he considers himself a minimalist of sorts, especially when it comes to teaching the golf swing. "I want to try to keep the golf swing as simple as possible," says Reilly. "That is the great thing about the Golf Stretching Pole—you don't really have to speak to anyone. They can just feel it." And that's the holy grail of game improvement.
"Students often ask to buy their own version of the Golf Stretching Pole," Reilly says. "I give each of my multi-day golf school students a pole they can take home and use. They can't believe how much of a difference stretching can make in their swings and distance." Reilly uses the Randy Myers Golf Stretching Pole on average three times per lesson, which may sound like a lot, but he insists that results have gotten him to that point. "It's not just a training aid, it's a stretching aid, and my students' successes speak for themselves." No need to stretch your imagination to believe that.