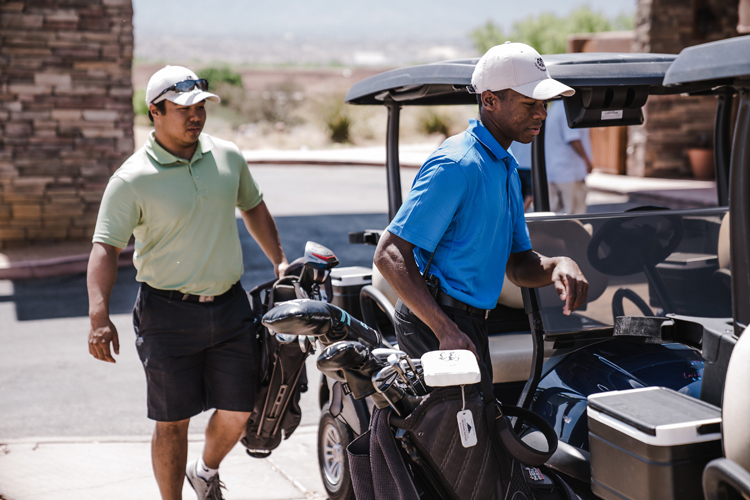 While it is clear and comforting to see golf organizations around the globe doing so much to attract new and diverse audiences, it is also evident there is plenty more progress to be made… especially when you break down the demographic data. Interest in playing the game is at historic levels, with 32 million active participants on and off the courses accounting for 456 million rounds, and another 66 million people who watched and read about golf this past year but didn't play. That "inactive" segment represents a rich potential crop of players looking for a reason to jump in; an attentive audience open to a nudge, or perhaps even an enthusiastic shove. Is your practice range and facility prepared to be the entry point for these potential golfers? In this story we take a look at four key emerging demographics in golf: millennials, women, families and diverse populations.
MILLENNIALS
The "millennial" generation began in 2000, the term covering those reaching young adulthood in the early 21st century. Accepting a loose translation of "young adult," experts claim there are 75 million millennials (ages 16-37) in the United States, with approximately 43 percent of them of diverse backgrounds. While it's true that Tiger Woods fueled the flames that led to the explosion of the game – golf is currently an $84 billion industry – it is millennial stars like Spieth, Rory McIlroy (pictured above), Rickie Fowler and Justin Thomas that stoke the fire and drive the game forward now. Business Insider, the New York Post and numerous other media sources have been critical of millennial participation in the game, citing the exodus of hundreds of thousands of players the past several years, but this generation represents the largest market share in golf and they want to participate. They just want to play their own way. A vast majority of this dynamic age bracket may be anti-rules and restrictions but that collective pushback might be a good thing and position.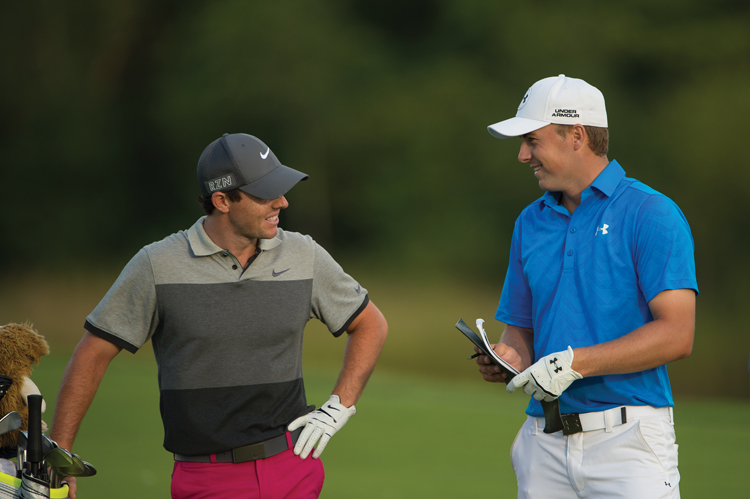 Sandy Cross, the Senior Director of Diversity & Inclusion for the PGA of America cautions against categorical generalization with millennials. "So much of what we read about millennials is often negative, which is unfortunate," says Cross, who acknowledges that 37 percent of the PGA of America workforce is millennial. "As an industry we need to be mindful to not over generalize things when we discuss the millennial generation – particularly in a negative light. It's a huge and growing group with varied differences. It's important as employers, supervisors and stewards of the game that we take the time to recognize millennials as individuals and appreciate the unique differences and values that they bring to the table."
WOMEN
Women account for 5.8 million of America's golfers, or 24 percent of all golfers, and 35 percent of all female golfers are new to the game – a large portion of the 2.6 million golfers overall who picked up sticks for the first time in 2017. They chose to join in. The game, collectively, needs to keep them in. Jared Williams, Managing Director of Golf USA's Tee Time Coalition, and member of the World Golf Foundation's Millennial and Diversity Task Forces says, "Once you see there's an interest from a minority segment, you have to do what you can to keep them interested." That starts with knowing the "WHY" of their interest and involvement. Studies have shown that women consider the social interaction and physical activity aspects of golf the main reasons they play, and entryways like the Chip-N-Sip program developed by PGA Professional Susan Vail are designed to cater that specific "why." Vail, a PGA Teaching Professional at the Abacoa Golf Club in Jupiter, Florida, encourages golf participation and socializing. Chip-N-Sip meets every Wednesday with the option of practicing and lessons or playing nine holes, followed by drinks and appetizers. Vail also hosts special events and tournaments throughout the golf season and has proven, with the group's size now over 250, that a little extra effort can go a long way.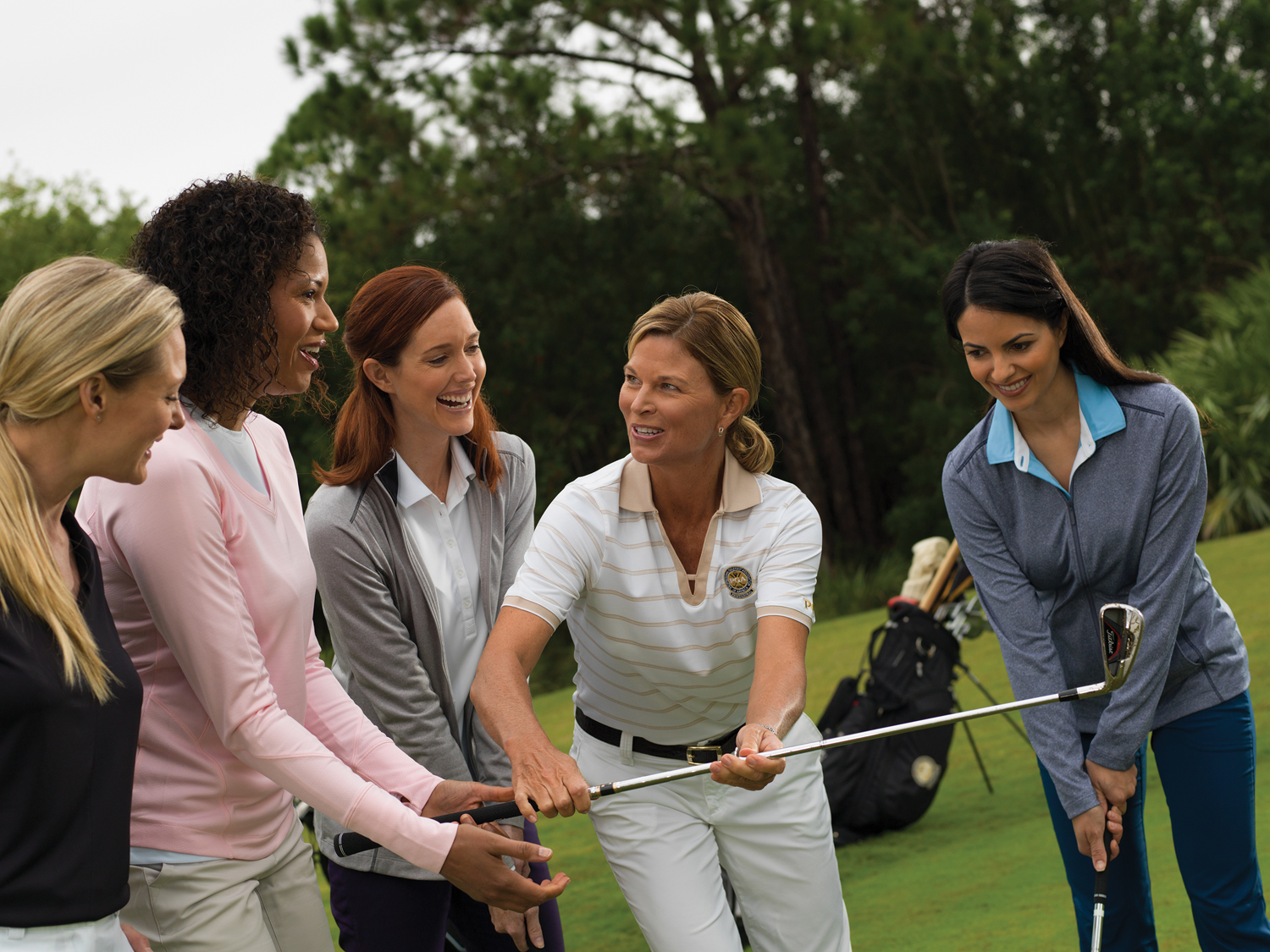 Furthermore, a survey conducted by the women's league coordinator at Somerby Golf Club in Byron, Minnesota revealed that the chief concerns among women are safety and being accepted/accommodated by male players. Every golfer was new to the game once, and the only way for anyone to get better is to be given a fair chance to play.
FAMILIES
My son is one of 2.7 million junior golfers in America, and my in-laws two of the 3.6 million "seniors" (65 or older) who played golf last year. They even played together, as our family has for decades now, and literally thousands of other families do the same. With over 10,000 elementary schools now offering The First Tee Program and PGA Jr. League continuing to grow at a historic rate, golf courses around the country have recognized junior golfers to be their future stock and revenue. Clubs like FarmLinks at Pursell Farms in Sylacauga, Alabama, see the bigger picture, knowing whole-family interaction is the more inclusive ticket to success. PGA Director of Golf Curtis Ohrn shared some of the perks of their popular Family Membership, which includes spouse and children ages 18 and younger: Unlimited use of the entire practice facility any time of the day (yes, with unlimited range balls), 30 percent discounts after 3 p.m. on all play, free lessons for every member, $25 junior rates Sunday-Wednesday afternoons and more discounts. Some clubs give more, others less, but more and more clubs are coming around to the "all-inclusive" mentality with their programs, encouraging membership and general growth from a population willing and ready to keep golf popular.
DIVERSITY
Seventy-five percent of golf courses are open to all golfers. That's good, but could be better. Some would contend that every course should be open to everyone, even if it means having to pay $100K to play Augusta National. Golf was once exclusively a game for the wealthy and white – the PGA even enlisted a Caucasian-Only Clause until 1961. However, now the game offers public rounds to every race, gender and socioeconomic class that average only $34 for 18-holes. We've torn down many walls and broken down most barriers so that, equipment costs notwithstanding, almost everyone who wants to play the game today can do so. That's good, but, as mentioned, it could be even better.
Minority participation in the game still needs more development, more intervention and assistance. Of the roughly 130 million women in America, only 5.8 million of them golf. The Hispanic population of is approximately 55 million, and only 2.8 million golf. There are 17 million Americans who identify as Asian, and only a million of them golf. The African-American community is comprised of roughly 45 million people, with only 800,000 of playing golf. However, there are strides being made in the industry to grow golf among all demographics. The Colorado PGA Section was presented the Herb Graffis Award in 2018 for their dedication to the sport's actual expansion. Honorary President of the Section, PGA Professional Ty Thompson says, "Growing the game and player development is a 365-day-a-year commitment," and Colorado golf has put their money where those words are across a diverse spectrum of interested parties. They've introduced the game to over 100,000 youth through their Golf in Schools program, expanded their PGA HOPE (Helping Our Patriots Everywhere) chapters to seven to help veterans assimilate through the game, and partnered with the U.S. Olympic Committee's F.L.A.M.E (Finding Leaders Among Minorities Everywhere) to introduce the game to minority college students, even offering scholarships to students enrolling diverse in the PGA Golf Management Program at the University of Colorado in Colorado Springs. At an even deeper level, the Colorado PGA Section gave $150,000 in Growth of the Game Grants last year to golf facilities and staff offering inclusivity programs to golfers of all cultural and ethnic backgrounds, including players with disabilities. The dollar amount is a remarkable contribution, and a large step towards what we can do as a industry to make golf an even more inclusive and rewarding game. As facility operators, we encourage you to find creative and unique ways to utilize the range as an appealing entryway into golf for folks from all walks all life.