Years ago the managers of a top-tier golf facility enjoyed plenty of demand. Today the proactive approach and great programming are needed— Ak-Chin is working toward those goals
BY: TOM MACKIN
Anyone can talk about growing the game of golf. Doing something practical to make that actually happen is another story entirely. Arizona's Ak-Chin Indian Community has taken the latter path, and a renovated practice facility is playing a major role.
Located south of Phoenix and covering just over 22,000 acres, the Ak-Chin Indian Community got into the golf business in 2010 with the reclamation of original tribal land that included Southern Dunes, an 18-hole Brian Curley/Lee Schmidt design (with input from Fred Couples) that debuted in 2002 as an all-male club. Fully open to the public after multiple ownership changes, and located on the northernmost part of the community's land, the layout had always been known as one of the tougher challenges in the Southwest. Now the bunker-laden course is about to get slightly softer through a renovation project this summer, including extensive work on the existing practice area.
"Looking at both the location and how successful Troon Golf is at managing courses and promoting the game of golf, we decided this project is something we are definitely going to support," says Louis Manuel, Jr., tribal chairman. "We wouldn't be doing this if it wasn't positive for the community or for the game itself. With our distance from a lot of other courses, we have to have a uniqueness that will give people reasons to come out here."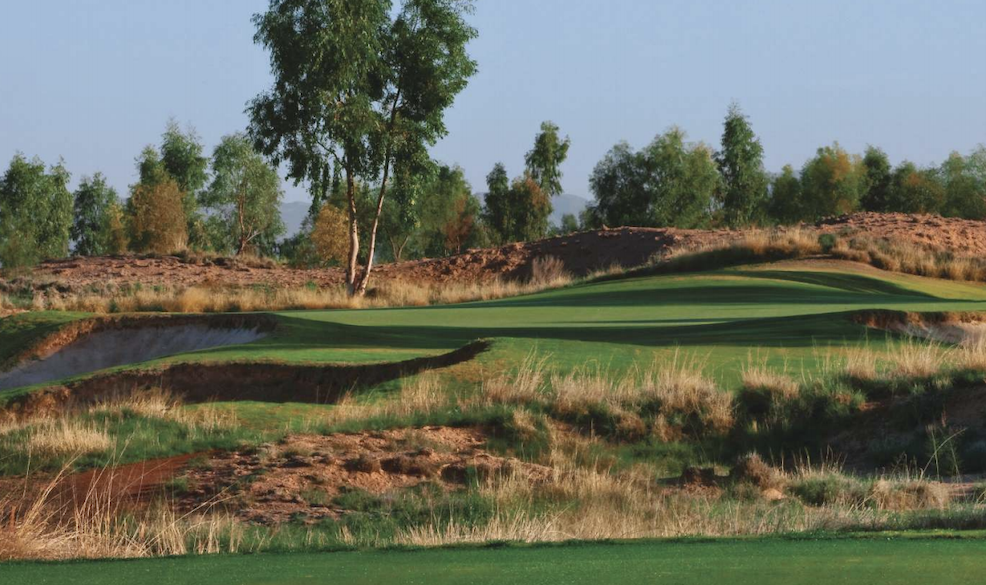 Overseen by original course designer Brian Curley, plans call for removing multiple bunkers and reducing the size of others, then installing additional tee boxes on multiple holes to address various playability issues. Driving a large part of the renovation project is a practice area that was sorely underutilized on most afternoons. "We would hit twilight time and there would only be a few stragglers out there," says general manager Brady Wilson. "We're just trying to find a way to maximize this part of the facility and help grow the game."
Although designed to be a dual ended range, the facility's north end has never gotten much use at all due to lack of access. A cart path will be built to remedy that issue and the area will be renovated to make it a true secondary practice area. It also will increase the space that could potentially be used for instruction, and provide some additional flexibility to flip flop range ends if needed.
Some new teeing area will be added in front of current teeing area to create more hitting space. A fairway bunker will be added along the edge of the tee area to enable golfers to practice those shots. A fairway look will be incorporated through the middle of the entire range, with six target greens — each bracketed by bunkers.
To create what will be a six-hole practice course available on select afternoons, small tee boxes will be placed along the edge of the practice facility.
Wilson says plans for a junior golf program that will utilize the renovated practice area are still being developed. But he indicates that the broad outline will be based on life skills and golf skills being taught side-by-side. "We may have a Saturday session that will be more instruction-based, while there could be an after school program where juniors could just show up and play. They can take what they learn on the weekends and put that into play. It gives us a better chance to provide the youth and adults of the Ak-Chin community a better chance to understand and experience the game. It will also help us reach out to the growing city of Maricopa and support the grow the game concept."
While golf will never be a primary moneymaker for the Ak-Chin Indian Community — its main revenue stream comes from Harrah's Ak-Chin Casino and Resort, which celebrates its 20th anniversary this December and is located 10 miles southeast of the course, as well as an industrial park and multiple farms — there is hope that such a high-profile amenity can become self-sustaining. "Our main goal is to make the facility a revenue generator," says Manuel. "Compared to the casino, it won't be as great a revenue generator, but it is going to be there as long as the course is maintained and seen as a positive thing for our community."
Ak-Chin Southern Dunes is not the only example of a Tribal-owned property where an added emphasis has been placed on establishing and maintaining top-notch practice. At Turning Stone Resort Casino in upstate New York, some 30 miles east of Syracuse, an indoor facility known as the Golf Dome continues to get upgraded. Already open year round with 40 hitting stations and two golf simulators, the Golf Dome is now home to a state-of-the-art Taylor Made Tuned Performance Center that offers the latest fitting technology. There's also a SAM Putt Lab for a high-tech putter fitting experience.
At Lake of Isles, a 36-hole complex at the Foxwoods Resort Casino owned by the Mashantucket Pequot Tribal Nation in northeast Connecticut, instruction gets a high priority. Now in its ninth year, the highly regarded Troon Golf Academy is led by Derek Hooper, whose team can remain indoors thanks to four indoor studios equipped with V1 swing analysis and Golf Biodynamics 3D swing analysis or head outside to use 60,000-square-feet of tee space plus putting, chipping and bunker Back at Ak-Chin Southern Dunes, the renovations are expected to have long-lasting effects. "The best part of this project is that everyone talks about how to grow the game, but I think the AkChin Community is actually taking steps toward making that happen," says Wilson. "They're listening to player surveys and wanting to make some of the suggested changes that will help the facility become the best it can be. They're being proactive about growing the game because they want to be part of the future for golf, not just part of the present."
"We're not looking at the course and practice area as just something sitting out there for us to put money down and not have it go anywhere," says Louis J. Manuel, Jr., tribal chairman. "What we are changing and improving are things that are going to enhance the course, and create something that we can build upon and build off of as our community and the city of Marcopa continue to grow."