Compiled by Matt Frey, PGA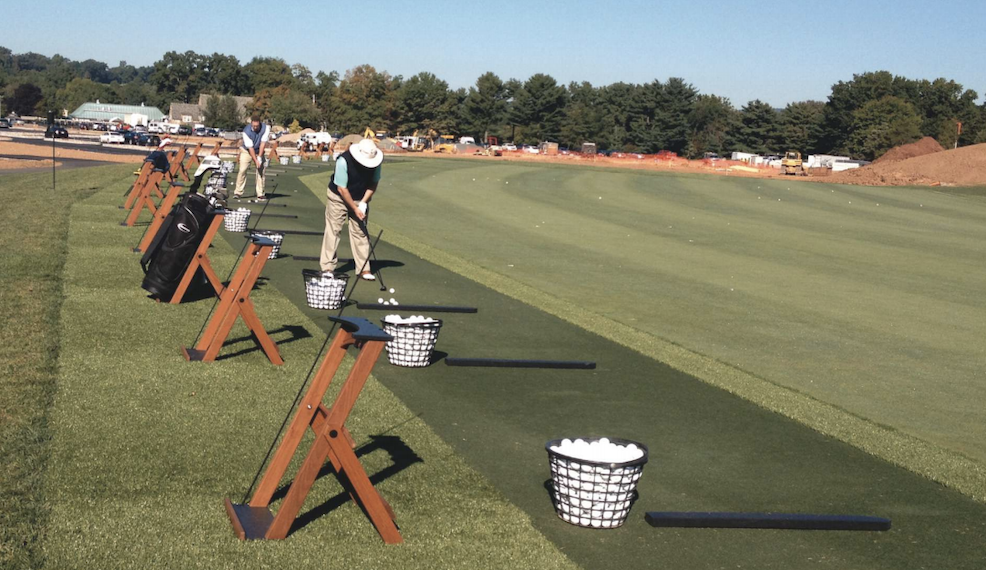 Are more facilities looking to provide Topgolf-like experiences on their practice ranges?
Kay: I have done more work in the last five years than any other five-year period in my 35-year career as a golf course architect. Many clubs are hiring my firm just to improve their practice facilities. I think Topgolf is great for the golf industry as they feel that 70 to 75 percent of their customers are not golfers. If 10 percent of those folks become golfers that is a win-win.
Forse/Nagle: We believe that the trend of golfers seeking shorter golf experiences that still provide fun and entertainment enhances the importance to having a great practice facility, and that importance has grown significantly in the last 10 years.
Among your designs, what are your favorite practice facilities?
Forse/Nagle: Winchester (Massachusetts) Country Club has a practice facility carved out of 11 acres of a heavily wooded and rocky property. It includes a practice putting green, chipping green, large practice range and a six-hole par-3 course. The club's regulation course is an original Donald Ross design and the par-3 course was inspired by Donald Ross-type greens and bunkering.
Hurdzan: Erin Hills offered 35 acres of a near perfect bowl shape, which allowed us to customize distinct teeing grounds along the entire 360 degree perimeter and with a diameter no less than 300 yards. We created tees with various turf cultivars, height of cut and slopes to mimic every shot that could be found on the course itself – including wind, direction or sun angle. This same tract of land had room for a couple of short game areas accommodating approach shots up to 80 yards and with all sorts of bunker configurations and stances.
Ottawa (Ontario) Hunt and Golf Club was the polar opposite of Erin Hills. Before our team arrived, it had nearly no space for even a conventional range and had to employ reduced distance range balls and a practice field enclosed within 100 foot high netting. Upon earning the trust of the membership, we ultimately delivered a netless facility with full distance range balls, a primary tee four times larger than the previous, a much-requested teaching tee and had enough land leftover to safely add a short game center and putting green.
Pritchard: Charlotte (North Carolina) Country Club has an excellent practice area of approximately 15 acres. There are teeing grounds at each end, both completely rebuilt in the past two years. The topographic layout of the ground is such that the tees on each end, in particular the clubhouse end, are situated well above the range, providing excellent visibility.
How do you feel about bunkering on the range?
Forse/Nagle: If bunkers are used, they must be built for the ease of retrieving golf balls and maintenance. When considering bunkers, it is important to select a material that compacts well and does not wash easily, such as crushed granite, coquina or mason sand, all of which are good products.
Hurdzan: The "loudest" feature of the golf course is the bunker, as it offers the only visual contrast to the otherwise monochromatic shades of green – the whiter the better in this context, purely to add cosmetic interest and define target areas. This is not to say range bunkering should be functional and thus demanding the requisite maintenance expense. To the contrary, we generally prescribe packed limestone with diminutive low side lip to allow ease of entry/exit for cart-mounted ball picker.
Pritchard: I strongly believe in bunkering on practice ranges, unfortunately there is always a problem with ball picking, and few clubs will add natural bunkers as they take extra maintenance, which means extra cost.
Should you match practice tees to golf course turf?
Hurdzan: For decades I agreed with this rule, but no longer. I now suggest a three-pronged selection approach:
Choose the grass that will heal fastest;

Choose the grass that will tolerate the same height of cut as found on the course;

Choose the grass that offers the best lies. For example, in northern latitudes where bentgrass is the predominant turf, it is not uncommon to plant bluegrass on the practice tee, as long as it is cut to golf course height. The bluegrass turf heals from rhizomes below the soil surface, which are usually not damaged by divots, while bentgrass heals by stolons, which are above ground and are removed in divots. In southern climates, Paspalum cut to the same height as the Bermuda tees on course is becoming popular. Paspalum is more aggressive and the worse it is treated, the better it seems to grow, even in mild winter temperatures.
Artificial vs. natural turf?
Pritchard: There are some very prestigious clubs that have a row of mats available when necessary. Usually they are nicely constructed, and thus not a blemish.
Hurdzan: Ideally, every facility should have both, especially if the area of natural turf is inadequate for a given demand. Serious golfers demand natural turf, but the majority of golfers are without preference, or if biased, lean towards artificial turf as it corrects mishits.
How should target greens be designed and/or oriented?
Hurdzan: Perhaps surprisingly, the most cerebral feature to design on a course is often the double-ended range – for it must feature targets of maximum visibility and utility from opposite directions. This is achieved with vertical and horizontal stagger – exaggerated green slopes (4 to 6 percent) and sized according to the USGA Course Rating Accuracy Table, which provides the required width and depth of a green, relative to distance from tee.
Pritchard: I prefer to have as many as a halfdozen target greens, and more if space permits more. I always design them at a size of 4,000 square feet or more. There are important decisions which have to be made regarding positioning of the target greens. It always makes sense to pitch them slightly toward the teeing grounds so players can properly see their shots landing on the target.
Liddy: Vision and simplicity are an important part of any good design. Any time a target green is placed on the range, the 30 yards behind it becomes blind. I prefer a large center area, much like a fairway, with no target greens, just poles. Target greens along the edge of the practice are much better. The practice area at Colleton River in Bluffton, South Carolina is designed in this manner and is one of my favorites.
What maintenance considerations do you take?
Kay: A normal range might only be mowed once a week, hence only have to pick balls once a week. If a pseudo fairway is added whether it will be mowed at 0.5 inches or 1 inch (like a step-up cut) the fairway needs to be mowed more often, perhaps two to three times a week, resulting in the more frequent picking of the golf balls.
Forse/Nagle: Many of the practice facilities being designed today can require one additional full-time staff member to maintain. Plus, there is the need for someone to place and gather balls at the beginning and end of the day. Irrigation, or the lack thereof, will also dictate the appearance of target greens.
Hurdzan: The number one question remains: "How fast can the turf heal?" This is why we regularly design tees from 75,000 to 100,000 square feet in order to spread the traffic and extend healing time. A close second is sub-surface drainage on +/- 20-foot centers. If the budget permits, a performance, sand-based rootzone no less than six inches deep is a gift that keeps on giving.
Pritchard: Maintenance costs always have to be considered, but owners must understand the practice grounds are among the most important elements provided.
Range orientation
Hurdzan: Due to the sun, facing east is the worst, following by facing west. This leaves variations of north and south. If summer months are the preference, north is our recommendation, but variable so having tees on both ends of the practice area are preferred. In the south, this might vary depending on the dominate winter wind pattern. Of course, sun angle is also a consideration and practice areas with a north-south orientation are best.
How important are range aesthetics?
Pritchard: In art there are rules of composition that you learn by studying and starting to paint or sketch. Far too few golf architects have this sort of background, and it is apparent in their work. Even golfers with no artistic background are affected by proper composition. They have no real academic understanding, but the mind just "feels" what's right and wrong.
Forse/Nagle: Our tendency as designers is to keep the flowers, shrubs and so forth around the clubhouse and not on the course. If the course is a minimalist/natural course, then so to should be the practice areas.
What are the recent changes in range design?
Liddy: As golf equipment, specifically the golf ball and large headed drivers, has everyone hitting it incredible distances, the need for expanded landing areas has increased – but more importantly there's greater need for variety in short game practice. This is especially true for college golfers, as the short game provides the separation of the very best players.
Are there changes that can be made on a tight budget?
Forse/Nagle: We are currently working with a club on roughly 90 acres. They have no room for a range. We are proposing two tees (one on No. 1 and one on No. 18) that allows for hitting balls onto the first fairway in the evening (after members are no longer teeing off) and in the morning on the 18th (until playing groups reach the 18th hole).
Liddy: A pitching field is a fun feature. Essentially it is an area with flags (or other targets) at 10 yard increments. With proper coaching it can be a fun, productive area.
Kay: Again you mow in pseudo target greens and fairway, such as Rossmoor Golf Course in New Jersey.
Overlooked aspects
Forse/Nagle: Simplicity. Too often past designs of practice putting greens and short game areas seemed to be designed with too much character. A practice putting green can be designed simply with a single flat area. This also allows a golfer to try out multiple putters on consistent surface when considering a purchase and is perfect for PGA Professionals to teach putting techniques. Safety can also be overlooked. Orientation and location of practice areas must keep safety as the number one priority. Adjacent holes, roads, homes, properties, parking areas, and so on, must be evaluated when considering practice areas.
Hurdzan: This extends from tidiness of the restrooms and snack areas to employing a person behind the counter that makes everyone feel welcome. If the range has at least 20 hitting stations, it might be economical to staff a range tee monitor, that is, someone who offers free of charge suggestions to beginners.
Kay: Oftentimes the tee is not big enough, thus resulting in not enough space for each golfer. Ten feet per hitting station is ideal.