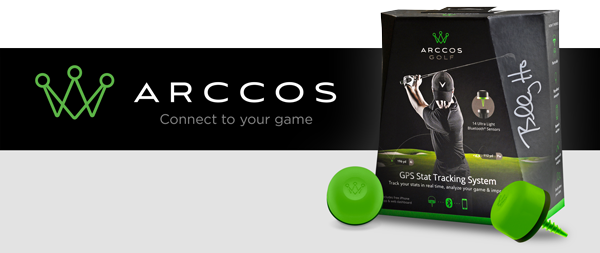 Arccos Golf, LLC – maker of the game's only GPS + Live Shot Tracking + Tour Analytics platform – announces the launch of its Arccos Green Limited Edition Autograph Series, featuring a collectible box hand-signed by 2014 FedExCup winner Billy Horschel, and sensors in a distinctive green hue inspired by the year's first major championship.
The "Arccos Green" Limited Edition Autograph Series ($499) is available now, exclusively at www.arccosgolflimited.com. All proceeds will benefit Horschel's preferred charity, Feeding Northeast Florida, an organization devoted to providing food to needy families throughout the region.Horschel will use the Arccos Green sensor set during his practice rounds at Augusta National Golf Club, with fans able to follow his progress through Amen Corner (holes 11-13) via shot tracking data and imagery posted across the company's social media platforms. Arccos is giving away one set of the limited edition sensors to a lucky winner through a sweepstakes on www.arccosgolflimited.com.
"We're celebrating the start of golf season and our relationship with Billy with a cool new color option and great charity initiative," says Sal Syed, Arccos CEO. "With golf fans worldwide tuned in, it's the perfect time to showcase how our system helps golfers of all skill levels truly understand their games."
Requiring no alterations to pre-shot routines, additional devices, tapping or other hindrances to enjoyment and improvement, the Arccos system features a set of 14 virtually weightless sensors. Easily attached to the end of a club grip, each sensor is paired just once via Bluetooth to the company's free iPhone app.
Along with GPS for nearly 20,000 courses worldwide, Arccos captures critical data for your game, instantly delivering information on distances hit, club averages, driving accuracy, greens in regulation, sand saves, putts and more. This helps golfers identify patterns and refine tactics before, during and after each round.
Essential to the Arccos system is its proprietary Tour Analytics platform developed in conjunction with golf's most renowned statistician, Peter Sanders. Drawing from Sanders' work with PGA Tour star Zach Johnson and many others, it automatically breaks down a players' handicap into five key components – driving, approach, chipping, sand game and putting. This allows players to:
·         Gain insight into what every shot means
·         Understand exactly how each part of their game contributes to scoring
·         Explore comparative data in each of the five components from golfers with the same handicap
·         Evaluate patterns across their entire golf history, supporting refinement of on-course tactics
Now available at Apple Stores, select golf retailers and pro shops nationwide, and www.arccosgolf.com, Arccos is more than just a great tool for the individual users. Top instructors rely on the system to help their students recognize and correct faults, such as club distance gaps, noticeable shot dispersion patterns and other problem areas.
Led by a team of Ivy League engineers, rocket scientists, PhD's and designers, Arccos Golf is named after a function of advanced mathematics.
For more information or to view a demo video: arccosgolf.com.
Get social: @arccosgolf, Facebook
About Arccos Golf, LLC 
Arccos Golf, LLC provides game-changing connected technology products for golfers. The company aims to revolutionize the golfing experience by integrating GPS shot tracking with a sophisticated platform that generates comparative data which helps golfers truly evaluate their game. Arccos is led by CEO, Sal Syed and COO, Ammad Faisal, two dedicated golfers, entrepreneurs, and childhood friends. Based in Stamford, CT, Arccos is a Callaway Open Innovation Partner with venture capital funding provided by LaunchCapital.