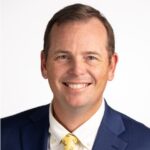 Andrew Bonn is the PGA Director of Golf at the River Bend Golf Club in Great Falls, Virginia.
Andrew Bonn on the importance of trying to fix a logistical issue at your facility:
One of our biggest logistical challenges here was that the main parking lot wasn't (and still is not) near our practice facility. You literally drove right past it on the way in. You then parked, unloaded your bag, got your cart, and drove back to the range and learning center. Both members and staff wanted to simplify things. So, a couple years ago we created a little bump out right by the range, leading to ten brand new parking spots. The balls are always stacked and ready for usage for the members, who love it, and are here at all hours – whether it's the early morning or the late evening.

Andrew Bonn on the business impact of trying to fix a logistical issue at your facility:
The impact was seen almost immediately. With 2022 being a warm winter there's a been a fun buzz around here and the learning center for months. Cars and people have been coming in and out and we've seen usage rates, lessons, and sales go up. Whether it's age, convenience, or people looking to simply shave off time when they have to commute to or from Washington, D. C., a simple bump out created good vibes around the club, making the member experience the best it could be. Efficiency, ease of use, and convenience – if you can fix that at your club, go for it. It'll make a bigger difference than you think.

If you would like to email the author of this Best Practice directly, please email andrew.bonn@gmail.com.