Take a step back from all you've been hearing about player development and ask yourself: Is our best bet simply to recapture the values of earlier times? We know for a fact that courses of 40 years ago were shorter, less penal and easier to maintain. A green fee back then was affordable, so you breezed through 18 at a quicker pace. Having a quirky swing seemed to be just fine – even for some of our leading tour players. A club or course of that era was a neighborhood gathering spot, not a bottom-line business that battles each day for market share.
OK, the latter characteristic we can't do much about for now – although it's a point worth swinging back to. The rest of the 20th-century scenario painted above is eerily similar to what our think tanks and management forums tend to prescribe. Yes, golf now has technological tools of every sort to support instruction and coaching, assist in course management and drive the consumer marketing effort as it churns full steam ahead.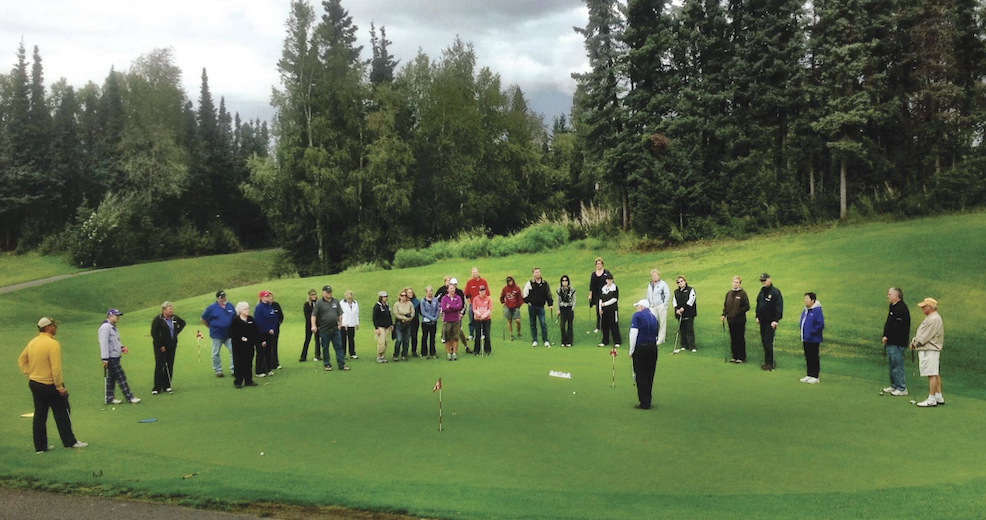 But the feel and the mood of a visit to the local golf facility is potentially a chance for diversion, relaxation, socializing and very friendly competition, right? That is how we remember it, and it's also how the crew at Anchorage Golf Course has been approaching their summertime challenge in recent years, especially since the arrival of Peggy Gustafson, a Class A LPGA teaching and club professional who earned Top 50 Women Teachers status from Golf Digest and the LPGA, along with her certification in clubfitting from Callaway, TaylorMade, Ping, Mizuno and Adams Golf. Gustafson spends September through April in Scottsdale, on the staff of the McDowell Mountain Golf Club Learning Center. Up in Anchorage, where she visited on a chance invitation several years ago, she teams up with Cody Long, the PGA Head Golf Professional, and Sam Bomar, who is director of instruction at Anchorage G.C. Both these professionals have done their own stints in greater Phoenix, at first-rate facilities like TPC Scottsdale and Gold Canyon Golf Club.
Their formula for pleasing Anchorage golfers and satisfying the five-investor group that owns the golf entity does hark back, in Gustafson's view, to a pre-golf boom attitude and atmosphere combined with a modern mindset that emphasizes programming, market segmentation and technology when it serves the purpose. "Cody [Long] has figured out, along with Rich Sayers the general manager, that people here are intense about their summer recreation but they want an activity like golf to be social and casual even while they're learning and getting better," says Gustafson. "Sam Bomar specializes in the Get Golf Ready program, which at Anchorage is one of the busiest in the country – Sam will do close to 400 Get Golf Ready students in a season."
Daily programming and a special-event flavor to the clinics and lesson-giving received a jolt of energy with the arrival of Gustafson. She is a second-generation golf professional who has competed in five LPGA major championships but never lost her summer camp attitude toward the learning and teaching of golf. Listening as she lists the variety of golf experiences offered at Anchorage, what sticks in mind is the uneven-lie lesson that golfers receive quite early in their series of sessions.
"This landscape is beautiful everywhere you look," says the Texas-bred professional, "and these people wait seven long months for it to green up. We get them out on the course as soon as possible and we teach them how an iron shot bounces away from O'Malley Road, and how putts break toward Lake Otis. They tune right into it." It's a two-pronged bias – teaching people how to score instead of how to swing flawlessly, and connecting golf technique to their beloved Alaskan terrain, with its black bear and foxes often in view beneath a bright rainbow overhead.
"The subtleties and intricacies of the game can be taught to new players," says Gustafson. Bear in mind she means intricacies of the "game," not so much the full swing, in all its Homer Kelley minutiae. Especially when demonstrating and coaching the more lofted iron shots, an instructor can talk about the tilt of the ground and have the requisite playing adjustments – often it's a mere matter of aim compensation – make sense and seem very natural to the clinic group. "You know how effective this is when you see a five-handicapper learn something by watching a 20-handicapper play these approaches from tilted lies," Gustafson says. "His way of flying it to the hole is very much by the book. Meanwhile the newer player will use a more commonsense or instinctive technique that may have a bigger margin for error."
The teaching day in June, July and August stretches from 9 a.m. until 10:30 or 11 at night. Along with nonstop Get Golf Ready programming and a full slate of junior golf activities, the course hosts what it calls the Women's Summer-of-Fun Swing Clinics, the Monday and Friday Senior Clinics and a $45 Wine and Cheese Putting Clinic, with 50 to 60 folks putting up $45 each to be on that practice green, learning a little something and socializing on either side of the blessed solstice.
One of the best combinations of camaraderie and learning is the ThreeNight Short Game Scoring Boot Camp. "It's advertised as six hours of instruction and supervised play – two hours a night – but quite often we stay out way past the two-hour mark," says Gustafson. She starts newer players with a putt and chip skills session then stretches them out to shorter pitch shots. The range facility is quite accommodating, with two practice putting greens and a chipping green. "Then we load up on carts and head out on the course for some 'play-prac tice,'" says Peggy.
The get-'em-out-there mentality runs throughout this golf staff's strategizing. You might even say that Anchorage Golf Course builds on its Get Golf Ready work with a "Stay Golf-Engaged" type of programming. A set of green-colored tees keeps the GGR grads inside 250 yards on every par-4 hole. This summer will see the launch of a five-hole golf league, with the first groups going off at the sophisticated hour of 9 p.m. "We're talking about a nominal green fee for that," says Gustafson, suggesting an all-fun, no-risk experience for the golfer who puts down their sawbuck. "As teachers we wear a player-development hat at all times," she observes sagely.
Revenue and income are signs that your approach is working. As a clubfitter from back in the days of wooden lie boards, Peggy Gustafson makes a strong play for gear purchasing by her students. "It's a different world up there," she reports. "Golfers come to you with a Big Bertha driver – the first one Callaway ever made. You let them swing the 2014 Big Bertha, that's 25 yards on a higher trajectory, so they're sold." Recently the course launched its Beer and Burger Test Drive session. For $25 the attendee gets a cheeseburger off the grill, a micro-brew beer tapped by representatives of the Alaska Brewing Company, all the demo time they want plus at least 15 minutes of professional supervision and, if appropriate, swing tips. "We've had people come and do this who have never played golf, and they don't swing a club when they're here – but a day or two later they sign up for Get Golf Ready."
At the beginning of this article there's a reference to the bottom line and fighting for market share. Again, today's economy demands serious scrutiny of expenditures and a shrewd, high-energy approach to bringing the customer in. All that said, in almost any market the feeling and atmosphere of upbeat instruction – how to scrape it around and keep a smile on your face – would be an obvious winner. The moral of the Anchorage Golf Course story is that golfers who get a few scoring short cuts and tricks of the trade will also put in the time to maintain a serviceable full swing. With that combination they will stay in the game as long as camaraderie and friendship are a by-product.