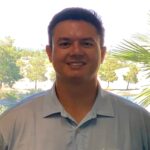 Alan Blake is the Head Golf Professional at Angel Park Golf Club in Las Vegas.
Alan Blake on the importance of looking for unique business opportunities with night golf and alternative shifts:
Here at Angel Park we have lights on our Cloud Nine par-3 course, which is open all day, with the lights kicking in after sunset. We stay open until 9:30 or 10:30pm, depending on the time of year. Because it's Las Vegas, we have people wanting to play golf at all different times of the day and for all different purposes (a way to wind down after a long night shift, an evening outing, etc). As a result, we've crafted programs and opportunities to fit all those different categories, from those looking for competitive play to tourists looking for a fun experience and everything in between. As a facility that also has 36 holes of regulation golf and a teaching academy, it's our way to expand our potential customer base.

Alan Blake on the business impact of looking for unique business opportunities with night golf and alternative shifts:
As first mentioned in Golf Digest we get people showing up at all different times of the day, ranging from those in the early morning who are just ending a shift to those who are spending a Friday or Saturday night out with golf as the activity. We have leagues that run on Tuesdays through Thursdays from 4:30pm-9:30pm that are popular with those who have a "regular" 9-5 job. Conversely Angel Park has a lot of night shift workers who spend their "Happy Hour" here when we open (30 minutes after sunrise), starting sometimes as early as 6:30am. The Special Olympics comes through on a routine basis. With our lighted range and nine-hole grass putting course, we tend to be a popular hangout spot for young people who want a fun activity on the weekends. In the past 12 months, there were 47,500 total rounds played. Of those rounds, 13,500 were played at night, 28 percent. All told, over the course of the whole year, 80 percent of our business is from local residents, with the rest from tourists, but on Fridays and Saturdays it's split 50/50. By expanding our offerings with the unique characteristics of our facility, we've been able to appease many needs and give everyone who wants to tee it up in Las Vegas a fun and unique option to do so.

If you would like to email the author of this Best Practice directly, please email ablake@angelpark.com.