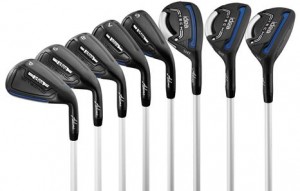 Adams Golf, makers of the No. 1 Hybrid Irons in Golf, today announced its new Idea Tech Hybrid Iron set – designed specifically for golfers with slower swing speeds who want to launch the ball high and achieve greater distance than traditional irons.*
The Idea Tech Men's set includes: 3-5 Hybrid; 6-7 Driving Hybrid; and 8-PW Hybrid Irons.
"From the highest lofted iron to the lowest lofted hybrid, each club in the new Idea Tech hybrid iron set is intended to enhance the golfer's enjoyment of the game," said Michael Fox, Director of Product Category Management. "This set was specifically made for the golfer who doesn't generate a lot of speed, but wants to experience the thrill of hitting high and straight launching golf shots. The engineering of this set makes this type of performance attainable for golfers with slower swing speeds."
By adding an external 24-gram weight to the back of the hybrids (3-5), engineers were able to position the center of gravity lower and further back than any previous Adams hybrid. This design gives slower swing-speed players higher launch and increased spin, helping them keep the ball airborne longer.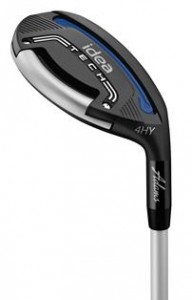 The Idea Tech Hybrid features Adams new Ghost Slot Technology
Introduced in the previous generation, Idea Tech Hybrid Irons (6-PW) feature an enhanced wrap-around slot that stretches from the toe across the sole of the club and into the crown. This enhanced slot design expands the sweet spot across the entire face, delivering better performance on off-center strikes. In addition, a refined barbell-shaped slot on the crown reduces stress on the face while delivering enhanced ball speeds upon impact, resulting in the fastest and longest Adams Idea hybrid and iron combination in history.
The set features a new progressive shaft design – wherein shaft tip diameters get thinner towards the lower end of the set. This technology makes it easier to generate speed and launch on the downswing, making it ideal for slow swing speed players.
Set Makeup & Availability
The Adam's Idea Tech Hybrid Irons are available in three distinctly different specs for men, seniors and women.
Men's set ($799.99 Steel/$899.99 Graphite): 3-5 Hybrid; 6-7 Driving Hybrid; and 8-PW Hybrid Irons.
Senior set ($899.99 Graphite): 4-6 Hybrids; 7-8 Driving Hybrid; and 9-GW Hybrid Iron.
Women's set ($899.99 Graphite): 4-6 Hybrids; 7-8 Driving Hybrid; and 9-SW Hybrid Iron.
All sets are available at retail beginning Friday, October 24, 2014.
*No.1 Hybrid Irons in Golf claim based on 2013 Golf Datatech On & Off Course Retail Market Report of hybrid iron sets advertised and sold through as pre-packaged hybrid iron sets.
About the adidas Group
The adidas Group is a global leader in the sporting goods industry, offering a broad portfolio of footwear, apparel and hardware for sport and lifestyle around the core brands adidas, Reebok, TaylorMade, Rockport and Reebok-CCM Hockey. Headquartered in Herzogenaurach/Germany, the Group employs more than 50,000 people across the globe and generated sales of €14.5 billion in 2013.
About TaylorMade-adidas Golf
Headquartered in Carlsbad, California, TaylorMade-adidas Golf Company sells golf clubs, balls, clothing and accessories under the TaylorMade, adidas Golf, Adams and Ashworth brands. TaylorMade-adidas Golf Company posted 2013 sales of over €1.3 billion.
For more information, contact:
TaylorMade-adidas Golf Global Communications
Dave Cordero
Tel: 760.918.6367
@davecordero on twitter