Adams Golf, an industry leader in hybrid innovation and technology, today announced the arrival of the new Blue line of products, a uniquely designed set of clubs inclusive of a driver, fairway, hybrid and combination iron set. Each piece in the Adams Blue set was created to help golfers get the ball in the air more easily and more consistently.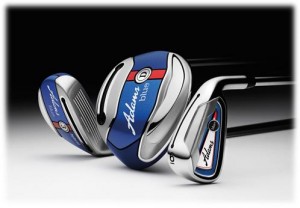 All in, Blue delivers an aesthetically-pleasing and confidence-inspiring lineup of clubs, with each product in the line featuring Adams' new, proprietary Easy Launch SystemTM.
Adams' Easy Launch System is comprised of three key performance features that work together to give golfers more air. Combine these features with an internal draw bias and a pleasing, inviting shape at address and the result is Blue: a line of clubs that work for the golfer to make the game more fun and less intimidating.
The first feature of the Easy Launch System, which derives its heritage from previous Adams models, is the Velocity Slot Technology on the soles of the clubs, which delivers more flex from the clubface and produce more consistent ball speed at impact. This leads to improved distance and accuracy, resulting in increased enjoyment for a wide range of golfers who will realize the performance benefits of Blue.
The Easy Launch System also implements low/back CG, which can be found in all metalwoods and irons throughout the Blue lineup. By keeping the center of gravity low and as far back as possible, it allows for higher launch, more spin, and ultimately more air time on all shots. When the ball stays in the air, it flies farther. Blue's CG placement will help many swing speeds and swing styles achieve optimal launch conditions.
In addition to the Velocity Slot Technology and low/back center of gravity, new Adams SlimTechTM shafts have been integrated into Blue, utilizing narrower shaft tip diameters to promote lower kick points and high launch conditions from any lie on the course.
Driver & Fairway – .320mm tip (vs .350 in most standard products)
Hybrids & Irons – .350mm tip (vs .370 in most standard products)
"Quite simply, Adams Blue is engineered to help golfers hit higher, straighter shots more consistently," said Brian Bazzel, Senior Director, Product Creation. "Through a sophisticated, simple design, Blue matches an aesthetically-pleasing look with proven performance technologies to make the game more fun for more golfers."
Pricing, Techy Stuff and When Golfers can Get More Air
For those looking to get more air, the entire Blue line is available at retail beginning April 3.
Blue Driver will be available in three different lofts (9.5°, 10.5° & 12°) with a 55g Aldila SlimTech shaft at an MSRP of $299 USD.
Blue Fairway is offered in three lofts (15°, 19° & 22°) with a 55g Aldila SlimTech shaft at an MSRP of $199 USD, while Blue Hybrid is available in four lofts (19°, 21°, 23° & 25°) with a 55g Aldila SlimTech shaft at an MSRP of $179.
Blue Irons are sold as a combination set including a 3 and 4 hybrid along with the 5-iron through pitching wedge at an MRSP of $699 USD for steel (True Temper Dynalite SlimTech 85g) and $799 USD for graphite (SlimTech by Aldila 55).
To learn more about Blue and getting more air, visit AdamsGolf.com
About the adidas Group
The adidas Group is one of the global leaders within the sporting goods industry, offering a broad range of products around the core brands: adidas, Reebok, TaylorMade and Reebok-CCM Hockey. Headquartered in Herzogenaurach, Germany, the Group has more than 53,000 employees and generated sales of EUR 14.5 billion in 2014.
About TaylorMade Golf Company
Headquartered in Carlsbad, California, TaylorMade Golf Company sells golf equipment, footwear, apparel and accessories under the TaylorMade, adidas Golf, Adams and Ashworth brands. TaylorMade Golf Company posted 2014 sales of €913 million.
#1 Hybrids on Tour claim based on 2014 usage on the PGA TOUR, as reported by the Darrell Survey Co.
Media Contact: 
Jory Mendes
(m): 707.843.6913
jory.mendes@tmag.com
John Ohail
(o): 760.978.6342
john.ohail@tmag.com