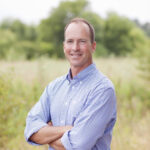 Adam Smith, the 2008 Middle Atlantic PGA Section Teacher of the Year and 2016 Section Professional Development Award Winner, is the PGA Head Golf Instructor at The Country Club of Virginia, in Richmond, Virginia.
Adam Smith on the importance of using training aids to encourage golf fitness:
We all know that a proper warm-up, prior to hitting golf balls, is the best way to get loose and prevent injury. But do all of your students know this? Teaching students how to warm up is our duty. The use of golf fitness-specific training aids is essential to encourage a good warm-up. It is also a great way to introduce students to a healthy golf fitness routine. As instructors, we need to be the ambassadors of proper golf fitness habits on the lesson tee and on the practice range. I recommend having a variety of training aids in and around your lesson area as you meet and greet students coming to you for a lesson. In my opinion, the best golf-specific training aids to have on hand are Orange Whip, Lightspeed Trainers, Orange Peels, Power Foot Straps and Wedges, produced by Orange Whip Golf. Also, Swing fans, impact bags, SuperSpeed Golf Training System, Powerchute devices, TrueTurn devices and Momentus Golf clubs are some other great golf-specific training aids that you should have available. Make an investment for yourself and your students, so they are motivated to pursue golf fitness in their golf improvement and practice efforts.

Adam Smith on the business impact of using training aids to encourage golf fitness:
Not only do students benefit physically from your knowledge of golf fitness-oriented training aids, but they will also become interested in having such equipment to use on their own both at home and on the practice range. The impact of using golf fitness-oriented training aids will enhance the lesson experience and also give you the opportunity to sell some of these products. Your expertise and knowledge of what equipment is best for your students will make you stand out as an instructor, and a sought-after teacher. Your "know-how" in producing the best golf fitness training products for your students to take home for their own personal use will benefit you and them. I recommend researching many golf training aid companies for their referral programs and merchandising opportunities. Use and endorse these training aids every day and you could see profits, retain students and ultimately enhance your teaching business.

If you would like to email the author of this Best Practice, please email adamsmithgolf@gmail.com.