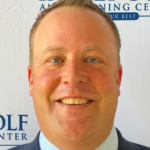 Adam Betz, the 2020 Gateway PGA Section Player Development Award winner, is the PGA Owner/Operator at Family Golf and Learning Center in St. Louis, Missouri.
Adam Betz on the importance of providing an exceptional practice facility experience for all golfers:
At Family Golf and Learning Center, we're trying to connect the dots for golfers of all ages and skill levels by providing resources, so all golfers have the opportunity to learn the game, practice what they've learned and play their best golf. Golf is enjoyed on many different levels, and we have options for the beginner, as well as the competitive golfer. With eight golf instructors providing over 5,000 lessons each year, we take pride in our player development programs, providing resources for the golfer to get better, and enjoy the game more. Students can get a TPI assessment with a TPI-certified fitness coach who will prescribe a golf fitness regimen that will aid in the improvement they seek with their golf coach. With many years of PGA and LPGA experience in our eight coaches, we have developed a great variety of learning opportunities for all of our golfers. We even have a new junior academy, which is a tiered system that allows kids to graduate up the ladder, through development and demonstration of different skills. When I took over the business three years ago, it was all about creating a quality practice facility for golfers. We offer covered, heated bays with high-quality mats and range balls that you'd find at many private clubs. With the tee sheets at many courses full, and new golfers continuing to come to the game, the practice range is a viable alternative to the traditional 9- or 18-hole round of golf. We offer services and amenities to drive that home.

Adam Betz on the business impact of providing an exceptional practice range experience for all golfers:
With a holistic approach and dedicated philosophy in place, our mission to provide a great location to Learn, Practice and Play Your Best Golf, is facilitated with one of the most extensive menus of services and opportunities out there. Our nine-hole par-3 course allows beginners and juniors the opportunity to experience golf on the field of play. Our Scoring Lab is an indoor learning and practice facility, and we have simulators for practice or an enhanced social experience. With everything that we offer laid out on our website, it won't take long for the consumer to understand that we are a one-stop-location for all of their needs, including retail, as we have a fully stocked golf shop, as well. Even in these booming days for golf, when so many new people are coming to the game, retaining these individuals remains just as vital. With our philosophy implemented every day, and an environment that welcomes all golfers with a smile, the future is bright for the game of golf, and we're happy to play a role in that success.

If you would like to email the author of this Best Practice directly, please email adam@familygolfonline.com.