The GC2 launch monitor from Foresight Sports is proving to have various usages across the industry
By: Tony L. Starks
Technology drives most new industries. With golf's birthday dating back several hundred years, the industry is far from new. However, over its lifetime, advances in technology have spurred growth in virtually every category of the golf business: equipment, apparel, golf course design, instruction and everything in between.
Within the last decade, launch monitors have become a cornerstone of golf industry tech – helping instructors provide more detailed lessons, helping manufacturers create better performing equipment and helping fitters deliver more precise fittings. The GC2 from Foresight Sports, which features the attachable Head Measurement Technology (HMT), takes precision to a new level. The system uses an advanced stereoscopic camera that locks onto the dimples of the golf ball to analyze critical ball characteristics at impact. Using the two lenses, the device captures anywhere from 12 to 24 images per swing and then uses those photos to create a 3D projection of the ball flight that can be output onto a laptop or another device. And because it is a camera-based system, the GC2 has a 99 percent capture rate – meaning it very rarely misses a shot for any reason.
With the use of HMT technology, clubfitters and instructors are able to see the exact point where the ball impacted the clubface. This allows fitters to easily see a golfer's tendencies, and make equipment changes (either shaft, loft or lie, or clubhead design) that help the golfer produce more center strikes. Some manufacturers have even utilized HMT technology in the development of new equipment. When engineers set out to design more forgiving golf equipment, many times the goal in mind is minimizing performance gaps between good shots and mis-hits – i.e. helping a toe or a heel strike perform more like a center hit. HMT technology gives them an exact and quantifiable way to measure those gaps.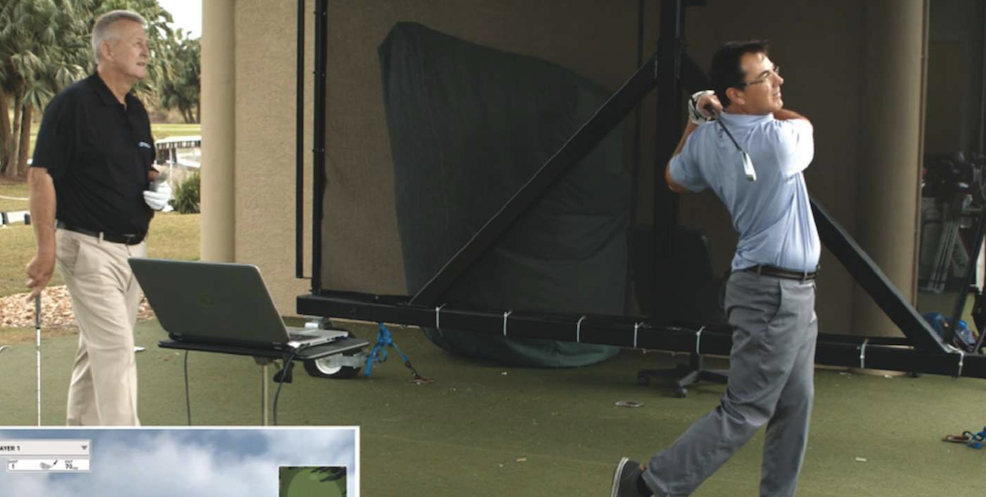 Furthermore, the GC2's price point weighs in at less than many of its competitors – between $7,000 and $15,000, depending on options. Along with its premium performance, the affordable pricing may have helped it become the leading launch monitor at golf retailers nationwide – including the PGA Tour Superstore, Dick's Sporting Goods and Golfsmith.
"Our company has revolutionized clubfitting, as we have unified the primary clubfitters in this industry around one technology," says Rick Cuellar, Foresight Sports' director of sales. "If golfers were fit for clubs at any major outlet in the last few years, they were most likely fit on our GC2." As with clubfitting, the aim of golf instruction is to help golfers find the center of the clubface more often. For Martin Hall, the 2008 PGA Teacher of the Year, GC2 with HMT has been an invaluable tool when it comes to accomplishing that goal.
"Knowing the contact points on the face of the club is very informative," says Hall, a PGA teaching professional at Ibis Golf and Country Club in West Palm Beach, Florida. "There's nothing else on the market that gives you the actual location and strike on the face. That's a massive help." Hall pays the most attention to a combination of path, face angle, attack angle and strike point – he calls it the "collision model." It helps his students to better see and understand why their desired results don't match their actual ball flight.
"I have people look at the start direction of the ball and the spin axis on the ball, and see if it is working it's way towards the target or away from the target," says Hall, who hosts "School of Golf," on the Golf Channel. "Obviously, towards the target is good and away from the target is bad. The GC2 makes it easy to show them why they're not getting the results they want.
"When a student is making changes, I push people to exaggerate their feel in order to actually get to where they should be. Although it may feel weird to them at first, they quickly come around when they see that they're hitting the center of the clubface more." Hall's "collision model" can be a helpful guideline for clubfitters. Matching a golf swing with equipment that helps produce consistent face angles at address and impact, attack angle and strike point is a formula for success.