How This GPS Watch Can Boost Your Teaching Business
There have been many GPS golf watches and club tagging systems over the last decade, but combining the two technologies is where Shot Scope V2 stands out. It tracks the golfer's on-course performance in a similar way to other systems – through included, individual club tags that are screwed into the butt end of the grip of every club.
However, unlike others on the market, these tags are pre-labeled with the club golfers need to install them on. Thus, the synchronization process is automatic. No need to type in a club type before pairing it with the app, as with competitor products. The watch still does all the traditional stuff: Automatically recognizes the course and detects the hole; updates yardage with every step you take; and is surprisingly comfortable.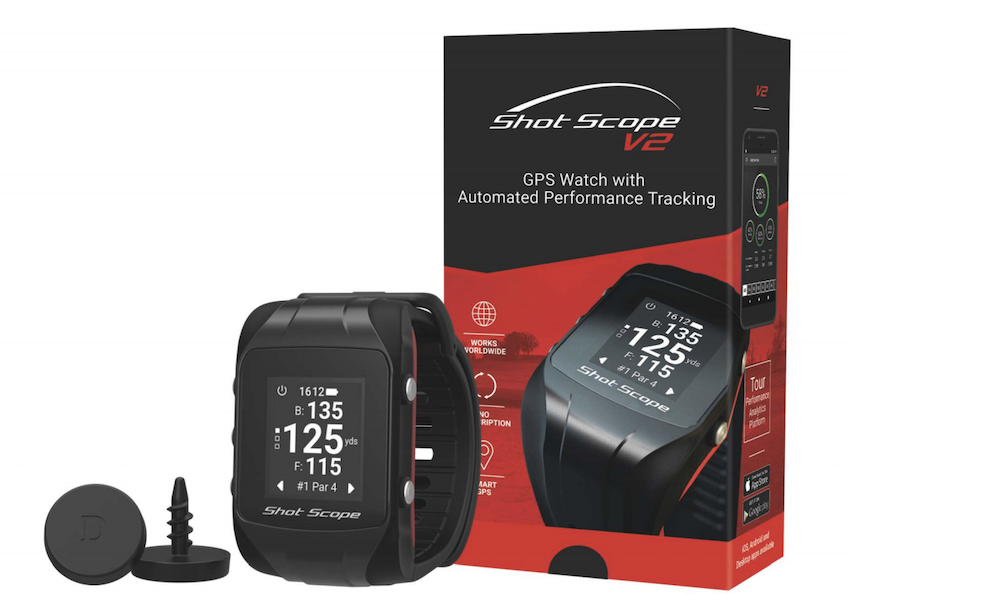 Modes
There are three modes to select on the watch: GPS, PRO or GPS+Track. GPS provides distances without collecting swing data; PRO mode gathers data without showing distances on the screen; and GPS+Track mode does it all.
Shot Tracking
The phone app – or your account on the company website – shows golfers everything they'd want to know about their playing tendencies after your round. In PRO mode, the watch collects and analyzes data – explaining 100 plus tour-level statistics on the app in various graphs and charts. Golfers can compare any round to others they've played, see layouts of each hole, the club used on each shot and the distance the ball travelled. Users can also filter by season to compare performance throughout the year. Every tee shot struck and tagged is plotted onto an interactive "fairway accuracy" graph. The overall image allows for a visualization of performance. Each shot can then be selected and the hole overview viewed to identify what led to this shot's positioning.
Approach shots, which the device classifies as any shot attempt from outside 50 yards, are displayed on a separate graph, color-coordinated for hits and misses and supplemented with average green success and average shots to finish data. It also ensures that approach shots are removed from club distance averages, to relay more-accurate stats.
For shots within 50 yards of the pin, the display shows the percentage of times pitch shots land inside 6 yards. The system also lets golfers flag penalty and provisional shots. Putting stats are collated, too, taking into account pin location and the number of putts taken on each hole. Data provided includes the percentage of putts that finish long or short of the cup, the percentage of times golfers hole out based on starting distance from the hole, the average distance the ball finishes from the cup based on distance, and the amount of shots taken to finish the hole after a putt has been hit from various starting distances.
Benefits
For the golfer wanting to know their shot tendencies, this is an invaluable tool. It helps golfers make informed decisions on the course based on hard data. There was clearly a lot of thought put into game analysis here, and it will benefit any golfer.
For instructors working with students, it may prove to be even more beneficial. After all, an instructor can have a keen eye on bad habits forming out on the course before they get out of control. You can see quickly at a glance if distance or accuracy is tailing off for any particular club or any type of hole, or if someone is perhaps missing putts from a certain distance. Then you can tailor a lesson plan for the student, to strengthen the weaknesses. That kind of lesson will undoubtedly lead to more immediate improvements in your students' game.
Cautions
Remember when we had to download course maps for handheld GPS units, while they were connected to a computer by a USB cord? Exhausting. Then came apps that let you download the course maps directly to your smartphone. A little better. And of course now most apps and watches are preloaded with maps of every course in the world. When you think about those original units, it seems so long ago.
Which is why it's rather shocking that the Shot Scope V2 comes preloaded with no course maps. Golfers need to download the maps, one by one. Not a fast process. Officials claim that this way, users don't have to suffer through map updates for courses they'll never play.
But once the course and clubs are set up in the system, everything is state-of-the-art.