Sometimes the simplest ideas are best, that may well be the case with Eyeline Golf's Ball of Steel
BY: SCOTT KRAMER
What is it? It's a weighted steel ball bearing coated in silicone – the size of a golf ball but five times heavier. Rolled with a putter, it gives instant feedback on bad strikes. Its heaviness means if the ball is hit on the toe or heel, or low on the face, it will roll off the putter face very slowly – to the extent golfers may even double-hit it.
Speed & Energy: And then there's stroke speed through impact. "The Ball of Steel was developed to encourage and teach a stroke that has energy at impact, not prior to that point," says Jerry Walters, Eyeline Golf's manager of instruction programs. "The maximum transfer of energy is midway through the stroke, and if the putter travels farther in the backswing than it advances in the through stroke, deceleration can occur." The weight of this product helps students instantly realize and feel deceleration. Putts struck anywhere other than the blade's sweet-spot using the Ball of Steel will torque the face open or closed, creating a mis-hit with little energy transfer to the ball.
Shaft Angle: The ball's weight also demands that there's no pre-release of the putter head. Thus, the body automatically learns to adjust the shaft angle for a consistent loft. So if golfers lean the shaft one way or the other, or if the hands flip, instant feedback is provided.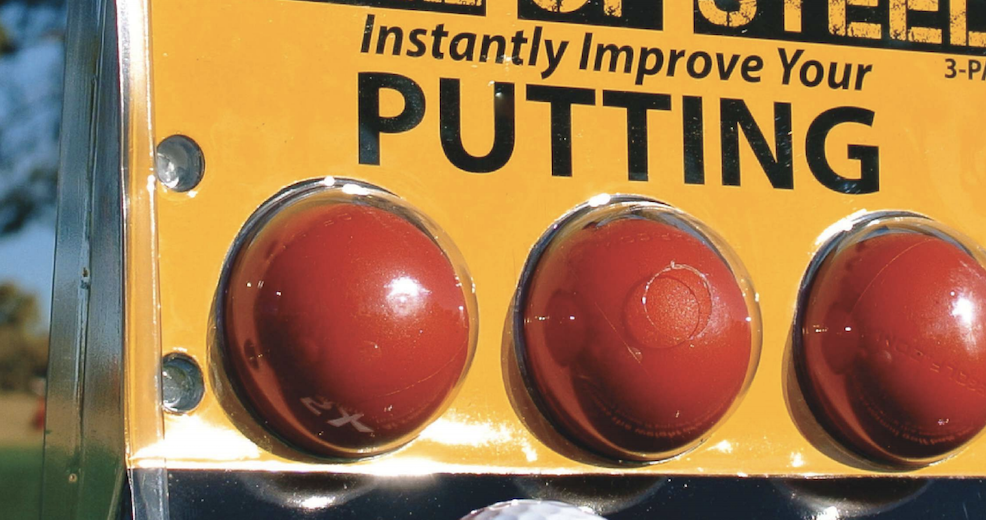 Bottom Line: It penalizes any mis-hit, while rewarding a center strike with the right amount of force at impact. Because of that, it helps golfers stop worrying about distance, target or putting style so that they can just focus on proper contact. And since the ball is so heavy, it rolls true off the face and cannot be bumped offline. Rolling putts with it develops the foundation for a solid stroke – according to officials who claim that by using the heavy ball, all of a golfer's muscles have to remain in motion and the arms, shoulders and hands will stay connected throughout the stroke. Officials suggest to first try this product on putts of just a few feet and claim that users start getting used to its weight by around the 10th putt. It's intended solely for putts of six feet or shorter. Let's look at a few detailed examples of how golf instructors are using the aid with their students.
RICK KREBS PGA director of instruction, Waverly Woods Golf Club in Marriottsville, Maryland
"Six feet is an important distance to practice putting – regardless of talent level. Tour professionals are good at lag putting, leaving the ball inside that range. But most amateurs have a tough time controlling their distance on long putts, so they end up with a lot of six-foot second putts. That's why making putts from that distance is important, and it inspires confidence. The other thing is that amateurs don't practice a lot. If students practice with the Ball of Steel, after just five minutes they'll find better contact and putter acceleration. That's why I use it. They're making more putts, making better contact, lowering their scores and therefore having more fun. Everyone likes to work on the long game, but this is important. You don't have to be athletic or have strength to have a good short game. If you don't hit the center of the clubface, it's a great tool for instant feedback. You will feel the putter twist in your hands if you hit it on the toe or heel. This is trying to eliminate face rotation. If you're not getting feedback, you're not learning anything. That's why I like it."
RENEE TRUDEAU PGA teaching professional, Biltmore Hotel and Golf Course in Miami, Florida
"I mostly use the Ball of Steel for putting clinics, particularly to help newer golfers develop a feel for putts no longer than four feet. It encourages acceleration to the finish of the stroke and centered contact, and, because of its weight, it helps stabilize the hands through impact. I originally bought this to help my students feel the wrists stay stable while making an accelerating stroke. I had too many students with long, flowing backstrokes to decelerating forward strokes. I needed something to help them feel the difference. If you don't use it correctly, you will practically whiff. My favorite drill with it is using it from three feet, then hitting one regular ball from six feet away. The goal is to use the same three-foot stroke on the six-foot putt, feeling a shorter stroke with constant acceleration."
HELEN KURTIN PGA-LPGA director of instruction, St. Louis Golf Academy in Maryland Heights, Missouri and the 2015 Gateway PGA Teacher of the Year
"In my teaching, I find that it works best with three types of students: Those who always leave their short putts short; players who break down their wrists when putting; and beginners who stop the putter as soon as they hit the ball. I don't even have to explain things, the Ball of Steel does all the talking. After a few putts, my students just get it. My junior golfers love it."