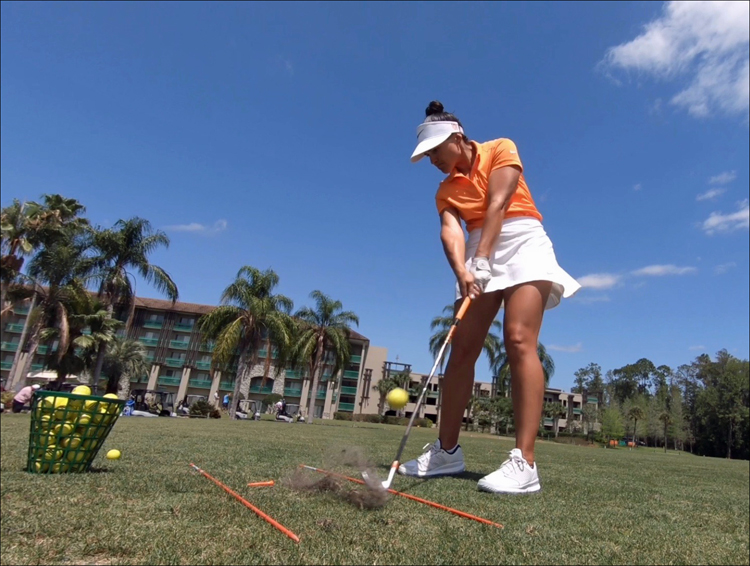 Natalie Sheary, LPGA Symetra Tour
Now that we have returned to playing golf, the range is calling our name! As a professional golfer, range sessions vary quite a bit for me – off season vs. in season and practice sessions vs. warm up/warm down sessions. Learning what others in the industry do for their own preparation can be beneficial to golfers of all abilities. Here's what my sessions look like:

Off Season: This is the time to really focus on my tendencies and tackle some of the bigger things that need to be addressed to help increase my accuracy and even gain some extra distance. During this time, I see my coach regularly and do various drills on a daily basis. I will always start a practice session with wedge work – 25, 50, and 75 yards or 30, 60, and 90-yard shots with each of my three wedges (lob, sand, and gap). More than half of each range session will consist of deliberate, slow movement swings, while trying to feel the positions that I want to engrain. I am focused solely on the swing, and not on ball flight or even a target sometimes. The rest of my practice session is spent transferring the thoughts to fuller, faster swings, while sticking with a specific target drawn out by two alignment sticks (or clubs) running parallel to each other.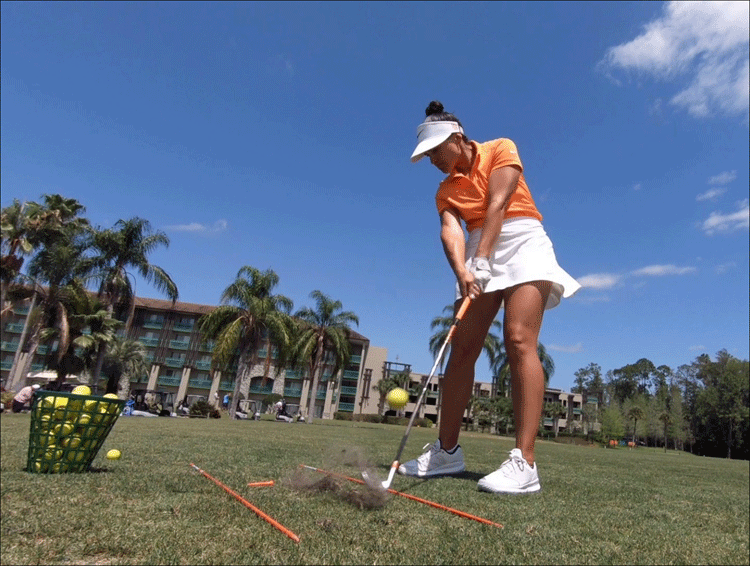 In Season: When it comes time for the season, my practice changes quite a bit. I still spend 20 percent of my practice on drills that I had worked on during the off season. This is when I focus on swing thoughts and feelings. I usually stick with one club for my drills such as a 9- or 7-iron. I place my alignment sticks down and will check my basics (grip, stance, posture, and ball position). I may even record a swing and send it to my coach for feedback. The rest of the range practice session is about shot-making and creativity. I may have one swing idea in mind, but other than that, the alignment sticks get picked up and it's time to have some fun.

With each shot I will choose a different club and target. If things feel good and the execution is consistent, I will start to shape shots (draws, fades, high shots, low shots etc.). This is the time to get comfortable with different shots that I may encounter on the golf course.
Warm up session: This is the time spent at the range before you head out to play some holes. For me, this is not the time to think about the swing and other thoughts. I am solely there to gauge how my body feels, get it loose, and see what my "stock" or normal ball flight is for the day. I am only focusing on flight patterns to see if I have my typical slight draw that day. I am not trying to fix or fight anything. As you know, in golf (like life) every day is different. You have to use whatever type of shot shape you have that day. I will still start with my wedges, then work my way through the bag. I like using my odd-numbered irons. A few 9-, 7-, and 5-irons, then a few with my hybrid, fairway woods, and driver. I am now ready to head to the tee. I have no doubts or worries. Some days I have a great warm-up session and some days I don't. I can tell you from experience that it is not 100% indicative of how you are going to play that day. This is why that one-shot-at-a-time mentality is so important. The past is the past. The only thing that matters in the moment is the present.

Warm down session: This is the period after I play. If I had a really good ball striking round, I may go to the range and hit 25 balls while doing a drill, or just hit some wedges. If there was one particular shot that I felt I did not execute well, I will go to the range and hit a few of that specific shot so I end the day on a positive note. Very rarely (but occasionally), I will go to the range to record a swing for my coach to view and for us to work through together. Again, typically this warm down time is not a long grind session. I am just getting my mind right for the next round.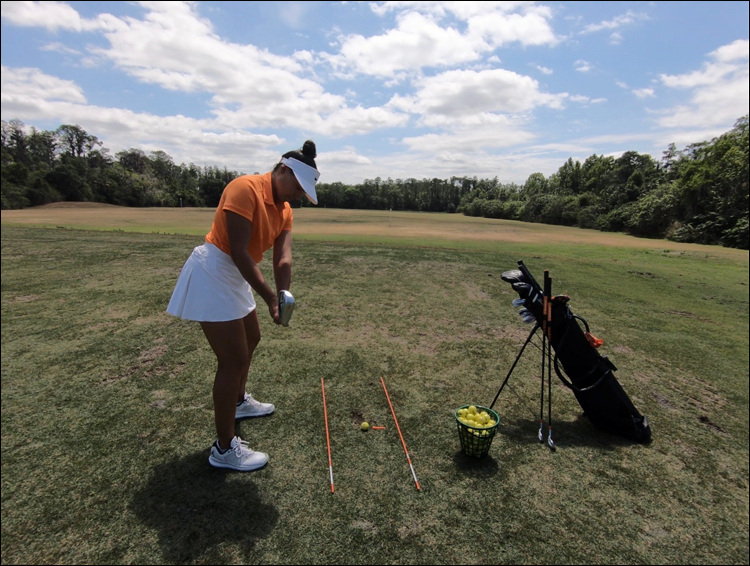 In a nutshell, the range is not just the range to us. By acknowledging whether it is an off-season work day, in-season practice day, or pre- or post-round range session, I know exactly what my practice is going to entail. Because of this, I do not waste time doing things that will not help me get better. There is no need to hit a ton of balls if things are going well. If things aren't going well, I pick a specific shot to work on and focus entirely on that. It is important to pay attention to how you feel mentally and physically. Tired or inattentive swings will not move you closer to your goals. A solid range session does not have to be hours long or include hundreds of balls. Some of my best sessions are short and sweet because they include goals, structure, and I get right down to business.
Natalie Sheary is a professional golfer from Hartford, Connecticut. She was a well-decorated college golfer and earned her degree from Wake Forest University. She is in her ninth season as a touring professional, and has competed on the LPGA and LPGA Symetra Tours. She has one recorded win on Tour and has held the number one position in driving accuracy and greens in regulation for the last few seasons. She looks forward to starting her 2020 season with full status on the Symetra Tour.