By Vinnie Manginelli
Greensboro Country Club is a private facility comprised of two eighteen-hole golf courses, located about 20 minutes apart. Bud Taylor is the PGA Director of Golf, overseeing both layouts. He says he spends time "running back and forth", a task made easier by the great staff he manages at both locations.
As most courses across the country regroup from temporary closures, and restart golf operations in a vastly different manner than they were used to, Greensboro Country Club is one of those fortunate facilities that didn't have to close its golf course at all during the peak of the pandemic in March and April.

They did, however, close their practice range in an effort to ensure social distancing was being practiced, no one was congregating, and cross-contamination was being avoided. Always striving to create memorable experiences for his members, and to make the best of a bad situation, Taylor, and his course superintendent, Brooks Turner decided to have a little fun of their own. "We had the idea to turn the driving range at the Farm (one of the two locations Taylor manages as Director of Golf) into a 9-hole par-3 golf course," Taylor would tell me. He and Turner laid out the course, entitled "The Brooksy 9", playing it up to the members and having some fun with it.
"The first hole ran the length of our driving range tee, and it has the cart path around it – so we called that "The Road Hole" because it was right next to the cart path," Taylor explained. From there the "Brooksy 9" would go out onto the practice range, using the whole area, including another practice range tee on the far end of the practice space.
Play was promoted as first come first served and with the first tee of the par-three very visible, Taylor and his staff were able to manage the flow of members to and from the range, ensuring all required social distancing measures were being met. Taylor continued, "We made up signs that basically had some general rules of play, and then we made up individual hole signs so when you were playing, you knew where you were going. The signs also had the yardages on them as well."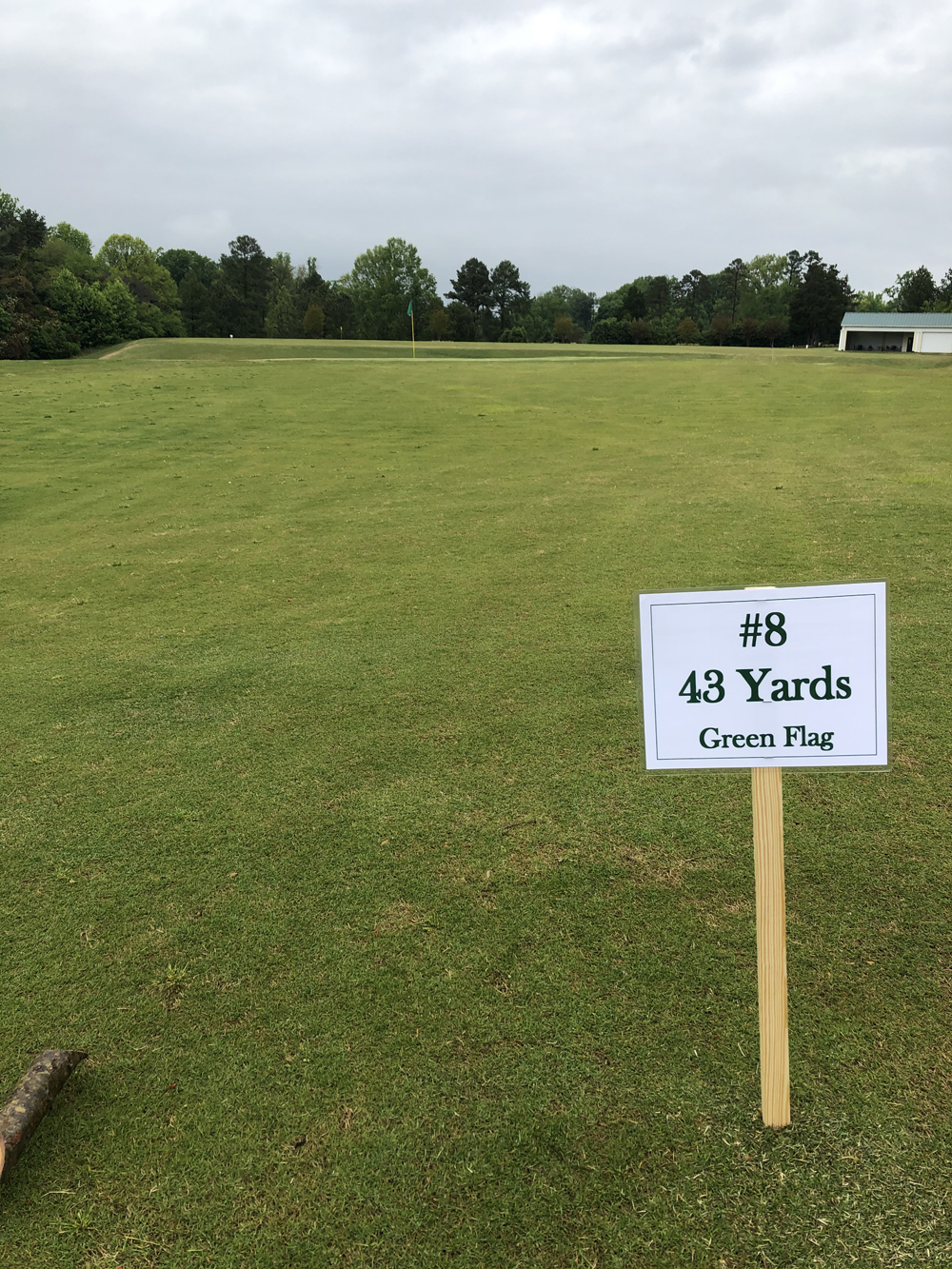 Members loved the temporary new amenity and appreciated the efforts of Taylor and Turner. But when it came time to reopen the range, a bit earlier than anticipated, the Brooksy 9 went away as quickly as it appeared. For those thirty or so members per day who played the short track, they will always have stories of sticking it close on the Road Hole or walking the same grounds that they're used to looking at from the practice tee, with a bucket of balls at their feet. Taylor admits he got the idea from his General Manager, but as I pointed out during our conversation, sharing of ideas and best practices is something that we in the PGA of America do best.
When the range reopened, they implemented twelve of the usual twenty practice stations to allow for ample spacing of individuals. Another measure taken initially was to decree the area "irons-only" to prevent members from touching the golf balls at all (to tee them up). The dozen teeing areas were for warm-up only, and members with tee times could access them no more than 25 minutes before they were slated to tee off. "On the far end of the range, we set up eight stations for those who just wanted to practice," Taylor added. Drivers and fairway woods are now permitted.

The large size of the practice green at The Farm allows for several golfers to practice simultaneously and still remain sufficiently distanced from each other. Taylor does stipulate they have to use their own balls, while Turner ensures each hole has a piece of foam noodle inside to prevent members from placing their hands too deep inside to retrieve their ball – there are currently no flagsticks in use on the practice green. Taylor says the club's short game area and practice bunker are also open, again with members required to utilize their own golf balls.
Taylor is teaching and has received a great response for his junior programs. "We would typically have five camps throughout the summer – and now we're going to have nine," Taylor highlighted. "We're basically going to have a junior camp every week of the summer," he added. Taylor did say that the number of kids per session would be scaled back slightly to abide by proper social distancing rules, and to allow the instructors to effectively manage the group of youngsters in a prudent and responsible manner.
Finally, another step Taylor has taken to adapt to our changing times was to create a three-page checklist for his staff that helped in maintaining a healthy retail environment. Using information that he found online from the National Retail Federation, he modified the document to fit his shop's needs and altered it from Phase I to the recently entered Phase II. In reopening his golf shop, he entitled the document "Operation Open Doors". He communicates the big picture information, like hours of operation and new safety practices, to his members via email.

Golf industry leaders across the country are implementing new procedures to adhere to the required standards. Taylor and Turner have extended the mandatory steps in a way to ensure their members continue to enjoy their Greensboro Country Club experience. Perhaps we'll see the return of the Brooksy 9 some time, but in better days I hope.