BY: RYAN ADAMS, PGA
When preparing preparing for a major championship, practice sessions sessions on the range and putting green are critically important. important. Ingraining swing thoughts, hashing out on-course on-course routines routines and a last minute tune-up from your swing coach may make a one or two shot difference during tournament play.
Few people know that better than Ryan Benzel, PGA director of instruction at Sahalee Country Club in Sammamish, Washington. The three-time Pacific Northwest PGA Section Player of the Year has played in eight PGA Professional Championships, qualified for four PGA Championships and has been a part of two winning U.S. PGA Cup teams.
With that wealth of experience under his belt, it makes sense that Benzel was put in charge of range operations at the dramatic 2016 KPMG Women's PGA Championship, where young Canadian sensation Brooke Henderson defeated World No. 1 Lydia Ko with a clutch birdie on the first playoff hole for the win.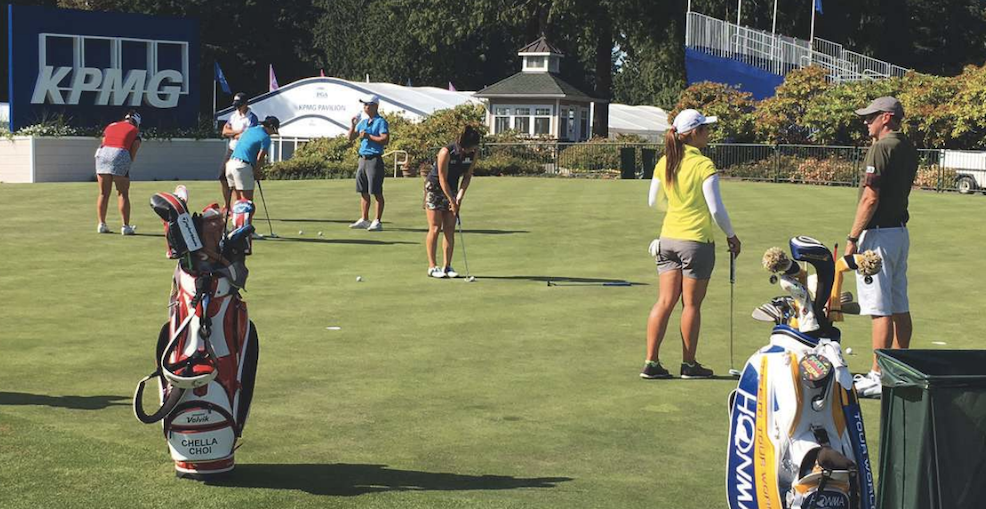 Being a part of numerous showcase events, Benzel knew what it was going to take in running a successful practice facility during a major championship. "From a player's perspective, I understood what they were looking for when they came to the range," says Benzel, who had the dedicated help of the Sahalee outside service staff, as well as morning, afternoon and evening waves of PGA volunteers by his side. "Putting their preferences into play, we had to also understand how the PGA staff wanted the practice facility (set up) and look at it from an overall operations perspective, too.
"So, there was a bit of a learning curve at first, but after a while we got our feet wet and ironed out the kinks. It was just a little different than a normal week at Sahalee." Being on the range at numerous PGA Championships, Benzel knew the players would have distinct preferences when it came to golf balls. "We heard from players that in the past, there was only one style of golf ball at the tent," adds Benzel. "On our range, we had three different styles to choose from, and made it a priority to always have a constant supply of golf balls." Enter Benzel's staff, who worked from 6 a.m. to 7:30 p.m. every day to make sure a player waiting on fresh practice balls was never a reality. "After the range opened each day, we had the range pickers out there right away," says Benzel. "We'd gather up the balls from the morning sessions, clean them, transfer the balls to the ball tent and repeat.
"It was important for us to keep everything going, but I also told our staff to enjoy it too. It's not every day that you have some of the best golfers in the world on your range." As a director of instruction, Benzel was a sponge during the rare time he had away from overseeing operations. He was able to record numerous players on camera for future lesson usage, asked players and coaches about their swings and even saw some unique drills used by some of the best players in the world "The range is actually one of the more fun places to be (during a tournament) because you see players for a longer amount of time," says Benzel. "I actually saw a caddie using a piece of molding as a makeshift stimp-meter; he said he was trying to find a straight putt! As a director of instruction, our range was really the best spot for me to be. Just being able to watch some of the best in the world swing and see all they do to prepare for a major championship was a great opportunity."