Coaches at any level can learn from the way National Golf Teams are structured, how coaches develop relationships and skill sets for elite players
By: Brendan Ryan
With golf's return to the Olympics in 2016, the recent end of the 2018 Winter Olympics and Tokyo 2020 on the horizon, we thought we'd take a look at how golf is structured on an international scale. What we're most interested in is talent development and exploring how other countries cultivate elite-level players.
If you've been involved with junior golf over the past decade, you may have heard phrase "National Teams." While it's not the way the game is structured in the U.S., in many places abroad National Teams are the marquee strategy for growing elite players and preparing them for high-level competition.
To help us understand what exactly National Teams are and how they're different from the way things are done in the U.S., we spoke with Thomas Larson, Thomas Poulson, David Dickmeis and Martin Kould – coaches from the Danish National Golf Team.
Funding for the Team comes from the government. And now that golf is back in the Olympics, they receive support comparable to other sports that will take the international stage in Tokyo 2020. The dollars are allocated towards training the athletes, tournament entry fees, as well as salaries for coaches and support staff, which include physiotherapists and mental coaches.
Every player on the Danish National Team receives approximately one hour of individual training each week, in addition to opportunities to attend intensive training camps lasting a few weeks at a time. Because of their country's support, team members are able to cover tournament entry fees for a select number of events and represent their country in major international events such as the Eisenhower Cup and European Team Championship.
"Coaching is about improving skill and reducing score through tactical, technical, physical, mental and transference training techniques. As a coaching staff, we always look at a player individually and try to find the easier way to reduce their score by ½-1 stroke," says men's coach Thomas Larsson. "Furthermore, we believe you must control your golf ball with power to have a chance to have an impact at the professional level."
The goal of the Danish National Golf Team is to produce golfers capable of winning the first major championship for the country. With only about 8,000 total junior players in the country (about 1/20 as many as in the U.S.), this is a competitive goal. The program has taken significant steps in that direction, with seven players currently in the top 253 in the World Amateur Golf Rankings and Gold Medals in Boys' European Team Championships in 2007, '09 and '17.
There are five levels of the Danish National Team: Junior Boys, Junior Girls, Men's, Women's and Professional. The criterion for joining either involves technique, skills and rank, as well as qualitative skills like mindset, determination and ability to work well with others.
Elite players who are not on the National Team still have opportunities to pursue golf in Denmark. The Danish Junior Golf Academy sits in the capital city of Copenhagen. Founded by Peter Thomsen, the academy provides comprehensive programs that have built a strong pool of candidates for the National Team. Likewise, the country has a handful of "sports schools" where students are able to combine elite training and academics. One such school is called Ikast, where the coaching staff includes Danish National Women's Coach Thomas Poulsen.
For team members, the development program is based on strong technical skills. Each coach has an extensive background in helping players to understand, develop and refine the skills necessary to become world-class golfers.
"One of the strengths in our program is that we can see the player often, meaning that we can get to know the player quite well," says Poulsen. "That relationship is build over a period of several years and is a strong base to develop upon. When the players attend college in America, the coach-player relationship is tested in a new environment. There the player's ability to train and develop away from home is tested for the next level of their career."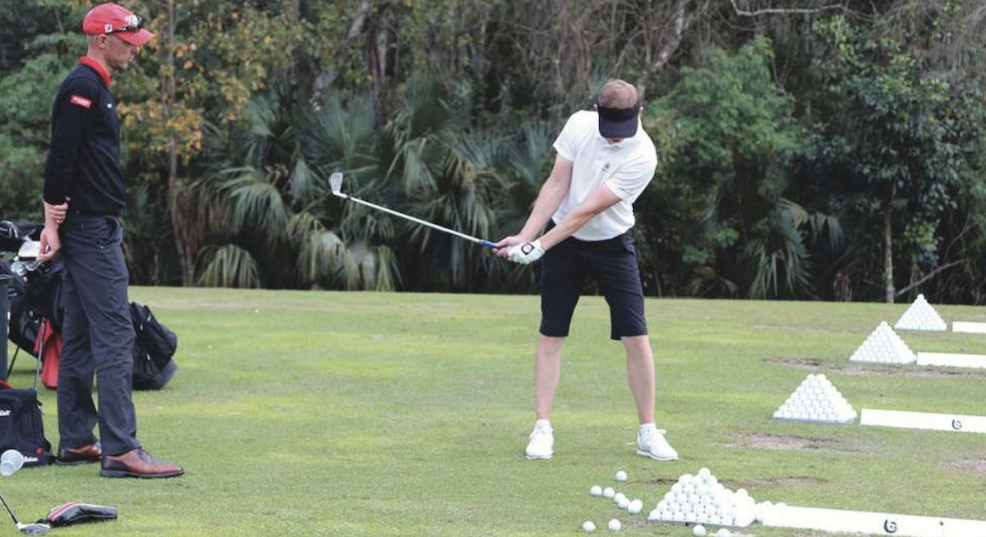 As Poulesen alludes, many of their best players are choosing to attend American colleges and universities as part of their long-term development. Currently Danish players attend the University of Florida, University of Texas, University of Houston Oklahoma State and University of San Francisco, where they are steady contributors to the programs.
According to Eva Fabricius-Bjerre, a former National Team member who is now a freshman at Troy University in Alabama, she decided to come to the United States because: "It is a great opportunity to play golf and get an education at the same time. But I also want to explore a new culture and get an experience for life."
Beyond the technical development, at the center of the program's philosophy is a deep-rooted mutual respect and trust. Players and coaches devote themselves to the quality of their craft, working hard on building skills while also making time for rest, proper nutrition and development of personal assets. In this way, the program is dedicated to producing a complete person – someone with the skills to be successful at golf and beyond.
"At the professional level, success depends on more than just the ability to swing or hit it well. Sending players to America allows them to mature as a people, compete at a highest level and also gain experience in structuring their time," says David Dickmeiss, the Danish Women's Professional Coach. "These qualities will become invaluable to them, as they make the transition to professional golf."
The critical take-away from the program is the long-term perspective on development. The coaches, players and parents understand that success is not linear. Players will have times of success, they will also have times of growth where they are refining and developing skills. This mindset will benefit their long-term development but might not immediately transfer to results. Instead of panicking about immediate results, everyone is patient and keeps the big picture in mind. Which for this team, means seeing a Dane one day hold a major championship trophy!
In addition to Thomas Larsson, Thomas Poulsen and David Dickmeiss, Martin Kold coaches junior boys' for the Danish National Team.