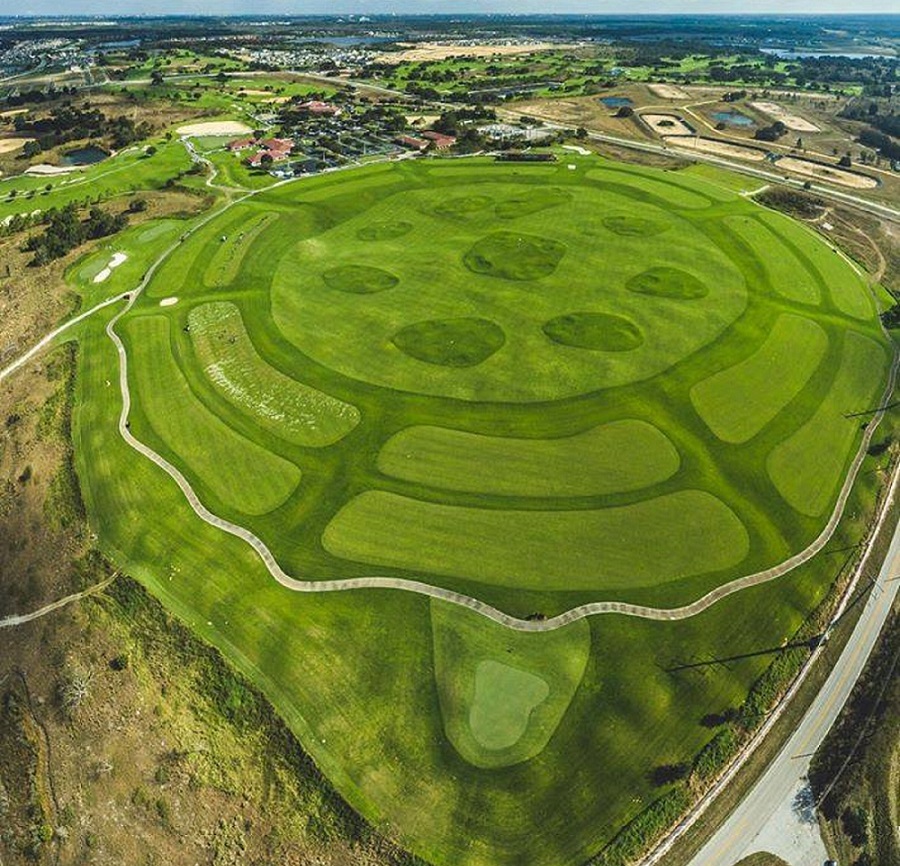 By Vinnie Manginelli, PGA
Orange County National Golf Center and Lodge (OCN) has "the largest range in the country." That's not hyperbole – that's a fact. According to General Manager, Rob Taylor, the range includes forty-seven acres, is one mile around, and houses 300 natural Bermuda grass hitting stations, ten of which are covered, primarily used for teaching.

It's a busy range that supports the golfing endeavors of tour professionals, college golfers, and young men and women eager to achieve either or both, as well as the newest players in the game, beginners who strive to get the ball in the air, hit it toward their target, and see improvement from one practice session to the next.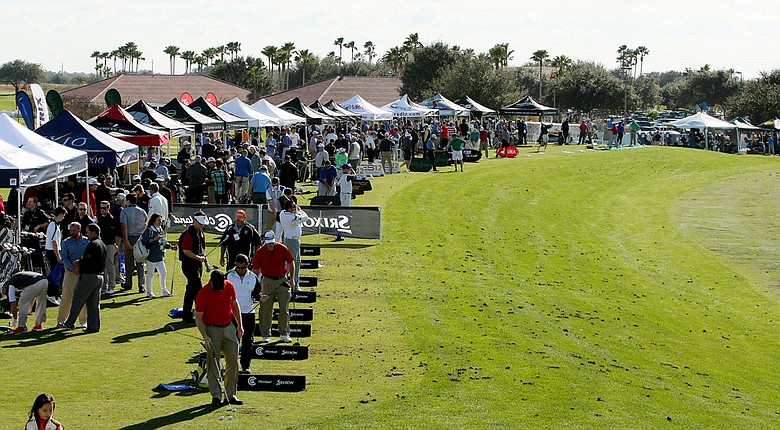 The facility hosts more than a dozen teaching professionals who bring in students from across the state of Florida and all over the world. There are thousands of individual golf lessons given on the grounds each year, and hundreds of golf schools that provide a group learning environment that often alleviates some of the pressure that a one-on-one lesson may invoke.

Taylor says the range is busiest from October to Mid-April, but there's one special event that encompasses a few days in mid-January every year that only Orange County National can pull off. 
The PGA Merchandise Show is the industry's leading trade event, gathering vendors and experts from all aspects of the game. From teachers to club manufacturers, apparel vendors to innovators in teaching technology, individuals from across the golf industry gather for one week to experience the latest equipment and apparel, learn about the new technology on the market, and share thoughts, ideas, and knowledge of how we can continue to grow the game.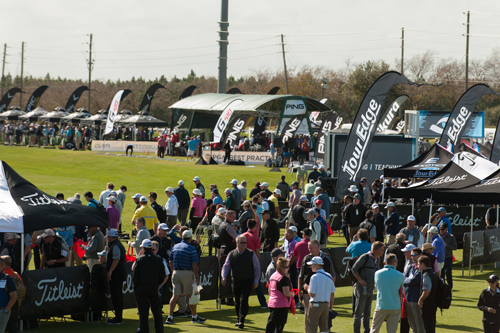 The Show kicks off on a Wednesday; the day before is Demo Day – that's the day OCN welcomes 10,000 people onto its golf range. With big and small companies displaying their wares, golf professionals testing drivers they can't even buy yet (but whose members will want to know all about them), and golf media covering all the big stories, Orange County National hosts golf's biggest party, seamlessly, flawlessly, and with organization that only a handful of facilities can pull off.

Planning Demo Day is no easy feat as you could imagine; in fact, it starts a year in advance. As Taylor and his staff bid adieu to one Demo Day, they start considering the next year's event – what to improve, what to build upon, and what new feature to implement that will continue to turn heads and impress those 10,000 visitors.
Work assignments are tasked early in the year and those individuals know what to do to ensure the following fall and winter go as smoothly as possible leading up to the big week in January. In October, meetings are bigger and more frequent. Orange County National's superintendent, Jason Morris, coordinates daily use of his 300 hitting stations, so when the PGA of America, its partner Reed Exhibitions, and the rest of the golf world converges on Orlando in mid-January, his golf range is pristine and ready to host the biggest golf club demo event of the year. 

Morris has a big job – he over-seeds on schedule and limits use on certain areas of the range, before turning his range over to the leaders in the game for that one special day. He and Taylor work with vendors as their materials are delivered days and weeks in advance. It is quite an organizational task to store tents, carts, and equipment and provide such items to company reps when they are ready to build out their hitting areas 24 hours before the big day. Taylor ensures a sufficient number of new range balls are on hand, and schedules his staff with all hands on deck, catering to the every need of reps from all over the country and across the globe. 
"We are fortunate to be the only facility that could facilitate something of this volume," GM Taylor says. "It is a point of pride, as we definitely look forward to it every year." 
Taylor described the setup hours before the event as a "full day for everyone involved." He painted a picture of vendors creating their display and host areas, golf carts motoring back and forth, fork lifts and trucks aiding in the mass build up, and a year's worth of planning coming to fruition – another successful Demo Day. 
Orange County National hosts many large-scale events, most recently the finals of the PGA Korn Ferry Tour Qualifying School – 160 top-level professionals competing for their careers. Taylor, and the staff at OCN are proud of the fact that a small handful of those recent finalists were regulars at their facility, whether learning with their instructors, practicing on the range, or playing in the Florida Elite Golf Tour, a local tour that calls Orange County National home.         
Being able to call yourself the largest golf range in the country is special. Having the privilege to welcome the largest golf demo day in the world every year is special too. But being able to pull off the planning and facilitation of such an event makes Taylor, Morris, their staffs, and the facility extra special.

When speaking with Taylor, our conversation started with a discussion of the 38 lodges he has on site, how most of his lodge guests are there to play his courses as well – they have 36 championship holes and a 9-hole executive course, and though classified as a resort destination, Orange County National is most definitely a public golf facility. 
We wrapped up our chat a half hour later talking about the special effect on his course that hosting Demo Day provides – notoriety, return visitors, a sense of pride in his staff and colleagues. In between those topics, 10,000 golfers came and went, hitting who knows how many golf balls over a one-day span. Most will go from company to company, comparing the results and discussing the technology, trying to figure out what's best for their members and customers – what will sell and what won't – there's always some uncertainty.
For the Florida Gulf Coast University grad, Taylor, there is far less doubt in his mind that Demo Day will be the highlight of the PGA Merchandise Show. With proper planning, immense dedication to teamwork, and the simple desire to excel, Demo Day being a success is much less of an uncertainty than any new line of irons or that $600 driver.