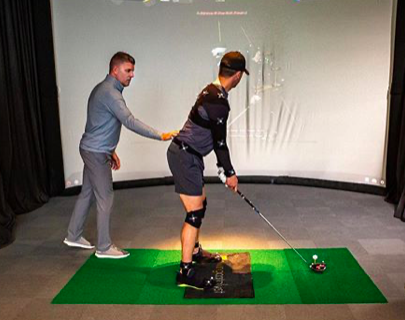 By Vinnie Manginelli, PGA
Dr. Bradley Borne is a Wellness Advisor, a Golf Performance Specialist, and Sports Medicine Therapist. He was born in Wisconsin, near Madison, and grew up a Wisconsin Badger fan. He and his twin brother became obsessed with golf during their college years, enjoying the sport with friends, and even succeeded in getting their father and uncle playing again. "It was something that we did together. They'd come up to college and we'd go on golf trips," Borne highlighted.
After receiving his Bachelor's Degree in his home state, he attained his Doctor of Chiropractic Degree at Northwestern Health Sciences University, in Minnesota. He moved to Philadelphia for a brief stint and saw his career really grow in Aspen, Colorado, where he began working with various athletes, and his desire to engage with golfers specifically started to blossom. Soon after, Borne moved to New York to head up the sports medicine and wellness side of Golf & Body NYC, a private facility in Manhattan that, according to its website, "brings together golf, fitness, wellness, and entertainment all under one roof." Members not only have access to high-level golf instruction and club fitting, but to expert information on fitness and training, as well as performance and healing services.

One special program that Dr. Borne facilitates out of Golf & Body NYC is his Return to Golf Program. "I was getting a lot of referrals from some of the top doctors in New York, and actually was becoming sort of well known in treating golfers," Borne stated. "There are a lot of people who say they specialize in returning golfers to the sport, but I knew no matter how good a therapist was, if you don't have all the information, such as golf swing – if you don't have the fitness component – there's this critical time when you get released from physical therapy and then you go and play golf, you're probably not ready to play golf." He added that there is a transition time where gym activities that build strength are vital. He also stressed the importance of having a golf professional look at your swing from an injury-prevention point of view, not just a performance perspective. "So, I thought, I have all of these tools here. I'm going to come in and I'm going to basically treat the person and rehab them. And then I'm going to follow them in the gym and make sure the trainers are doing the right exercises with them." He even remains engaged with them in the simulator to ensure the golf professionals isolate any issues in the golf swing that could cause injuries.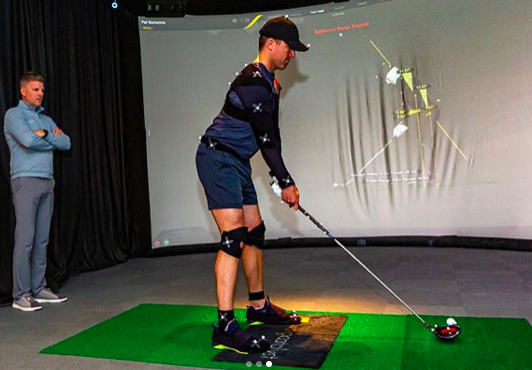 Borne and the facility's PGA Head Professional, Ron McDougal, one of the top instructors in the tri-state area and a former Metropolitan PGA Section Player of the Year, collaborated with a few trainers to create the Return to Golf Program in 2015. The initial rendition of the program encompassed twenty sessions over a two-month timeframe – an updated version on the doctor's website cites "a four-week program addressing physical limitations and improving patterns specific to golf." This collaborative approach truly covers all aspects of a golfer's rehab as he or she returns to the play. The doctors, therapists, trainers, and golf professionals do so with an eye on injury-prevention as much, if not more than, game improvement. There is a time and a place for improving the golf swing – Dr. Borne and his team want to make sure the student's body can handle the stress that he or she will inflict upon it, eager to get back to playing the game.
The COVID-19 pandemic has thrown a wrench into operations at Golf & Body NYC, closed since March – so, with that uncertainty, Dr. Borne is widening the reach of the program, expanding it, adapting it, and building upon its success. "I'm hoping to continue the Return to Golf Program through my own business and I'm definitely going to use one of our trainers [at Golf & Body NYC]. Ronnie [McDougal] will be a part of it," Borne prognosticates on the future of his program. He anticipates making the program more mobile, serving clients at their own clubs, and working with their golf professionals and health and wellness staff. He wants to "take the Return to Golf Program from the walls of Golf & Body to anywhere." With the coronavirus crippling New York City this spring, Borne has conducted virtual sessions with clients and plans on building upon that online facet of the program as well. Dr. Borne even touts the value of a phone conversation that enables prescription of the right exercises for a golfer returning to the game. "People just need more information. There's just so much stuff out there, but it's never a collaborative piece with doctors and trainers and therapists working together," he laments.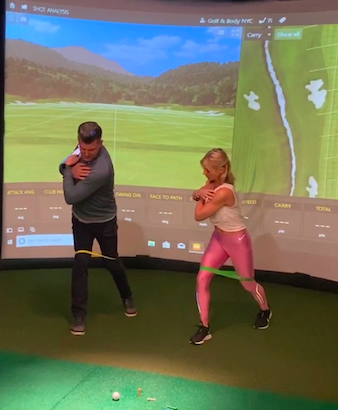 Borne has added to his program with the Golf Wellness Collective (www.golfwellnesscollective.com), where he collaborates with Jennifer Fleischer and Matt Palazzolo, both Golf Digest 50 Best Golf-Fitness Trainers in America, and Eden Foster, the PGA Head Professional at Maidstone Club, in East Hampton, New York. "Between Jennifer and Matt, we can do a lot of good work with people across the country virtually," Borne touted. With Fleischer in San Francisco and Palazzolo in New York, the team has both coasts covered and has become highly-skilled at working with golfers online.
Borne discussed swing videos he receives, running them through McDougal or Foster before reaching out to the student's local swing coach, if he or she has one, to advise on injury-prevention measures, making sure not to step on the instructor's toes, but just to be there as a health and wellness advisor. When it's all said and done, this collaborative effort strives to ensure returning golfers are healthy, happy, and physically able to play the game. Once that is achieved, the golfer's skills can be assessed and improved over time. "There is a huge potential to reach more people and keep them healthier playing golf and have more fun doing it," Borne concluded.