Renovating its East Nine, Farmington Country Club set to unveil majestic practice facility and premier short course in 2017
BY: RYAN ADAMS, PGA
As the game of golf continues to progress and expand the ways it reaches people, courses around the country are finding a need to adapt – and quickly. Whether it's through hosting a Drive, Chip & Putt competition or moving some turf around to add in Footgolf holes, clubs are getting more progressive in how they present the game at their facility.
One such example is Farmington Country Club, a premier private club in Charlottesville, Virginia, that has been around for centuries. The club itself has roots that trace back to 1735. The 27 holes on property include the South and North Nines, built in 1927 by Fred Findlay, and the East Nine, laid out in 1965. For a place with so much history, it may be easiest to stick with what works, right? Not so fast.
PGA Head Professional Rob McNamara and his staff noticed that the East Nine was slowly losing its quality, becoming underutilized by the membership. Although the East Nine was the track some people played solely, it just didn't have quite the buzz of the North and South layouts. Recognizing the issue, McNamara saw an opportunity to adapt with the changing times of the sport.
"People only have so much time these days, and four hours is a long time," says McNamara. "We wanted to be progressive and meet the needs of those people so they can get a round of golf done in less than 90 minutes."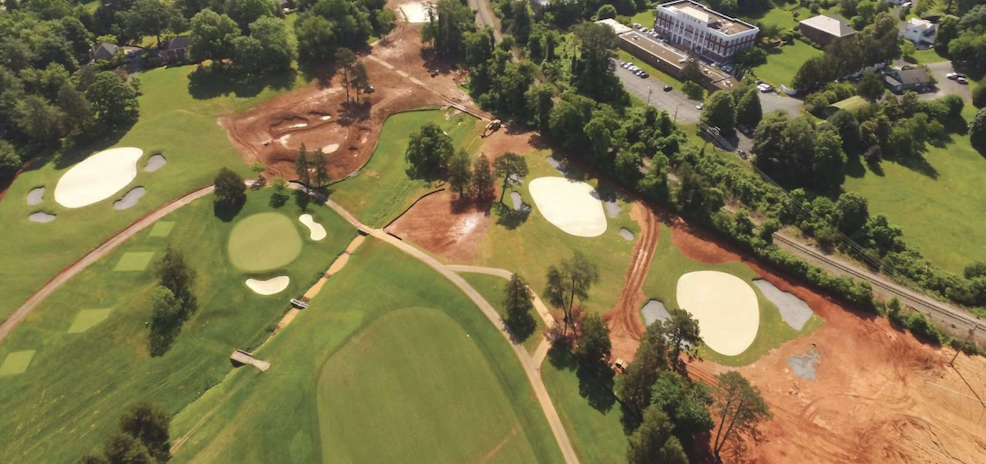 So, after much discussion, a 2011 study and identifying architects to take on the project, Farmington Country Club went forth with a renovation project that would transform the East Nine into a breathtaking practice facility and 10- hole short course. Renowned architect duo Bill Coore and Ben Crenshaw would design the course and practice complex, with the goal being to have it open by Spring 2017.
"It'll be green by Labor Day of this year," says McNamara. "The job Coore and Crenshaw did is unbelievable. The course is just absolutely beautiful and the practice facility is the most comprehensive one I've ever seen."
McNamara isn't kidding either. For a membership that was used to a small practice range with limited flight golf balls, the updated complex will be a whole new world.
The facility, which in McNamara's words will be like "practicing in a park," has two ends – one side is strictly a teaching area for the staff at Farmington, while the other is a massive threedeck space with enough room for 35 people to hit comfortably.
On the teaching area side will be a "bunkerlike" indoor/outdoor facility that will have five bays, a SAM PuttLab and full swing video analysis. Both the teaching and main practice sides will also have multiple greens for chipping, pitching and bunker shots, a flat green with no break to work on putting, an uneven lies area, two different heights of rough to practice from and a fairway bunker to hit specialty shots from. The cherry on top, especially for members used to limited flight balls, will be using Titleist Pro V1s everywhere on the complex.
And that's just the practice facility. The Coore and Crenshaw designed 10-hole "premier" short course will be a par-35 layout with six par 3s, three par 4s and one uphill par 5. It promises to pack in all the beautiful contouring and landscaping the popular architect duo is known for, but also hopefully provides a place for the modern-day golfer to get a round in.
"This is a 'short course,' not just a little par-3," says McNamara. "Ten holes give you enough variety to hit full shots and play real golf holes – long par 3s, solid par 4s and a reachable par 5. It's an incredibly fun looking course too, with all the bunkering and landscaping they did. I'm excited to see what people think of it."
McNamara says that some parts of the renovation are already checked off, and that by next spring, the whole area will be ready to roll.
"Everyone on staff is looking forward to it. We're excited to have a private area to teach in and be able to do it year round too with the indoor facility. We went into this project with high hopes and it's turned out to be a destination practice facility."